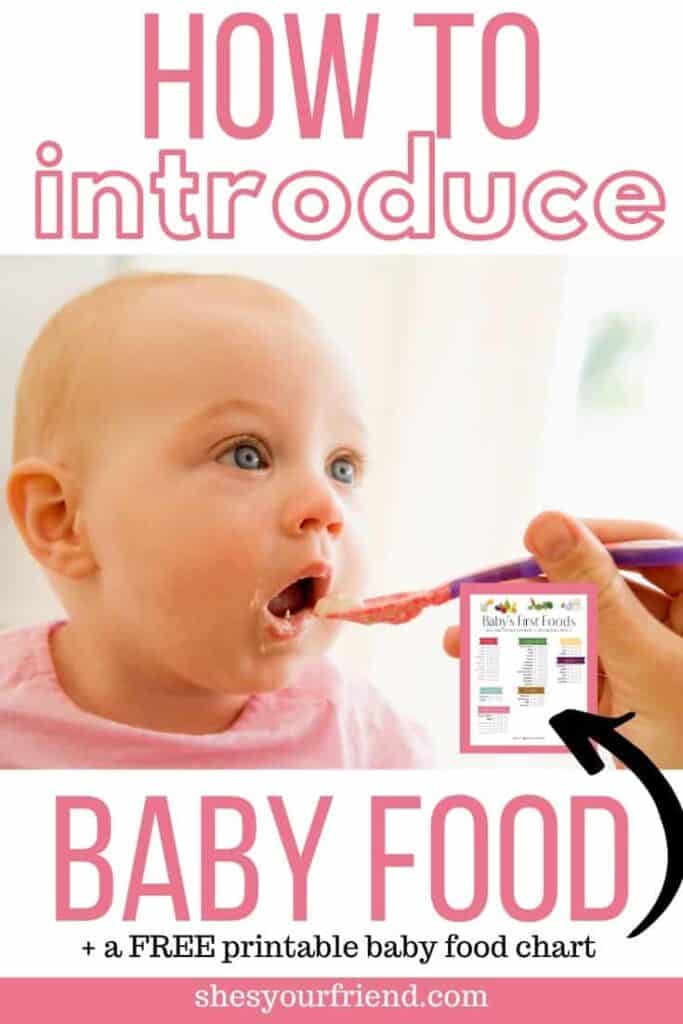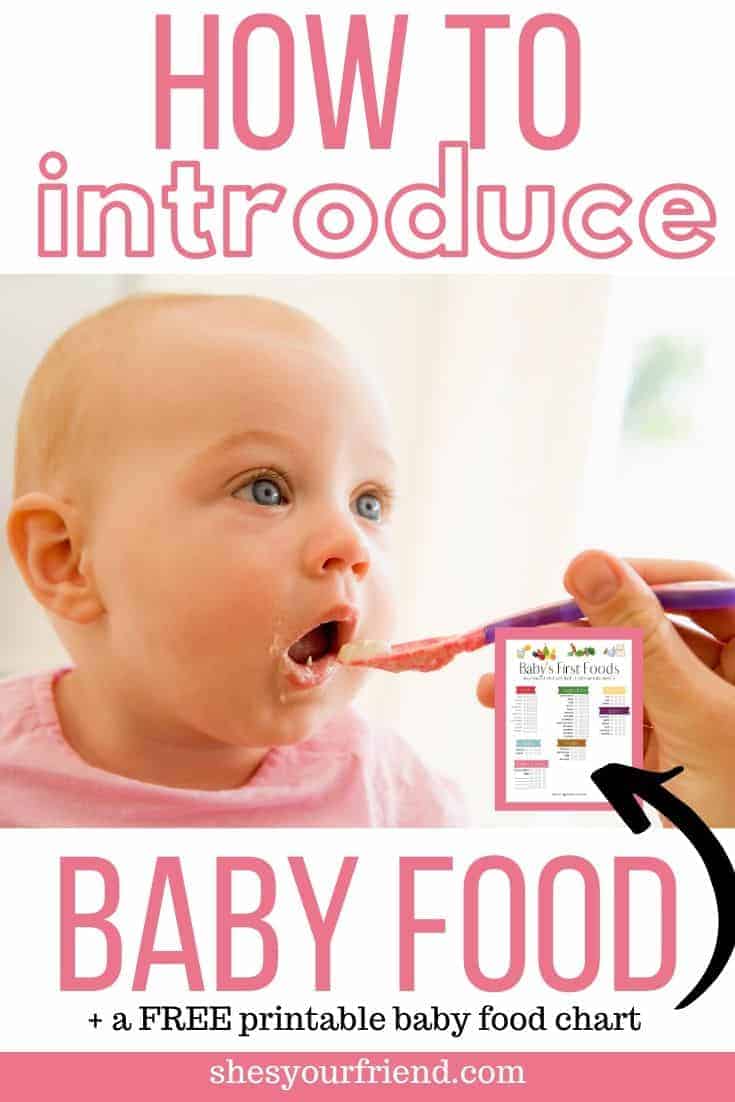 As your baby gets older, he or she will move into the era of baby food! Will there be messes?
You bet, but with this basic guide to introducing baby food, you will be one step ahead of everyone else.
This article contains affiliate links, which means if you purchase anything, I receive a commission. It doesn't change the price at all. For more information, please see my Disclosure/Advertising page.
Now, let's get started introducing baby foods to your little one:
Cues to know when baby is ready
While a lot of pediatricians (mine included) recommend waiting until at least 4-6 months old before you start introducing baby food, there are a few cues to look for to know they are ready.
1. They look interested when you eat in front of them
2. They are starting to sit up with assistance, and would be able to do alright in a high chair
What to start first and stages of baby food
Introducing baby food can come with its own set of challenges like what baby food should you start first? The first food I tried with both of my kids was baby cereal.
Now, some kids like the baby cereal and others don't.
If your baby falls into the not a fan category, the next food you should try would be a simple fruit or vegetable (apples/bananas/greenbeans/peas).
After you are comfortable with the simple foods, you can move on to baby food with more than one thing in it. One of my son's favorite Beechnut baby foods is sweet corn and green beans!
If you opt for the already made baby food, they have numbers on the containers for certain age groups. Stage 1 is for 4 months old, stage 2 is for 6 months old, and stage 3 is 8 months old.
Now these age groups are not set in stone. You can try a new stage out when you feel your baby is ready.
The exception is to avoid starting stage 3 until they are really good at eating food. Usually stage 3 food has bits for them to chew up, and it is no longer just a puree.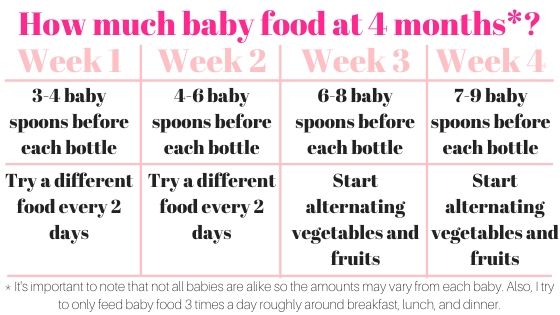 Start slow and expect messes
When baby is just starting out on baby foods, they do this thing with their tongue to swallow and it ends up pushing a lot of the baby food back out of their mouth.
This is why you should start slow.
You don't want to put a lot of food in your baby's mouth when you are introducing baby foods, or they could choke.
As you can imagine, this tongue reflex is also the cause of a lot of messes. Stay calm.
Messes can be cleaned up.
This is one of the reasons why you will want bibs to save those adorable outfits from stains. That leads me into my next point about know the foods that stain.
Baby's First Foods Chart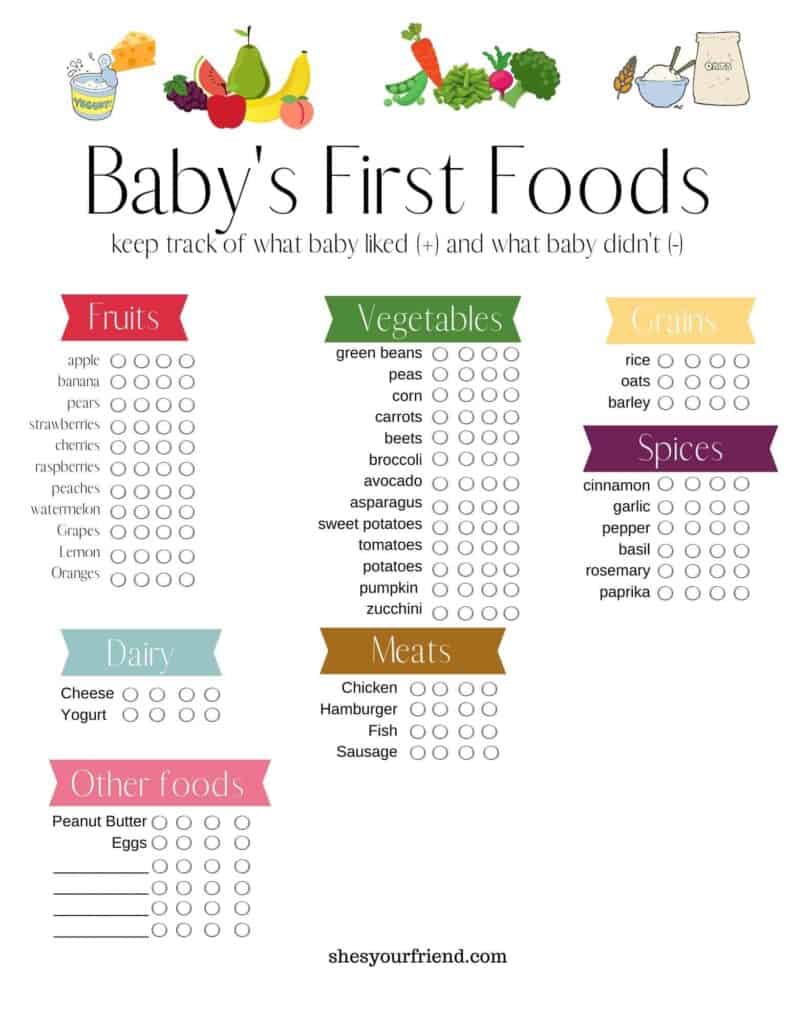 To help you keep track of what foods baby liked and foods baby didn't, I created this fun printable. Get your free copy sent directly to your email, just fill in the details below.
Know your food
When it comes to introducing baby food, it is important to know your food. In particular, know which food stains, which food causes constipation, and which food makes baby go #2.
Which food stain?
The list is rather long, which is why bibs will be a clothing saver for sure!
What I have found to be the worst culprit of stains are any food groups that are red and orange (beets, pomegranates, raspberries, pasta sauce, cranberries, sweet potatoes, carrots, and squash) and also blueberries.
Now, it's not to say that you shouldn't avoid introducing these baby foods, but just try to get it washed off right away!
Which baby food constipates?
One thing you will want to know when you are introducing baby food is which food constipates a baby. Constipated babies are fussy, and it's really no fun for anyone.
These are the worst offenders of constipation: bananas, baby cereal, apples, and anything dairy. I would recommend that if you are feeding your baby one of these, to also give him/her a food that does the opposite.
Which foods help baby go number two?
Having a constipated baby is no fun, but these foods can help alleviate the constipation: prunes, green vegetables, prune juice, and apple juice.
What you can do to prevent constipation is that if you are feeding baby bananas (or another food that causes constipation), give him/her some apple/prune juice (1 mL juice + 2 mL water).
This helps proactively prevent constipation from occurring when you are introducing baby food to your baby's diet.
Alternate between fruits and vegetables
When introducing baby food, it's important to alternate between fruits and vegetables. This way your baby gets a variety of healthy foods, and doesn't start to favor the sweeter foods and refuse the veggies.
Some baby foods like Beechnut offer a blend of both fruits and veggies which even some of the pickiest eaters will eat!
Be prepared with these items
There are a few necessities you will need when it comes to introducing baby food to your little one's diet.
Chances are you probably have some of them especially if you have used my article on baby registry must haves.
Bibs
I have hit hard on bibs because these are such an important thing to have.
They keep food (mostly) off baby's outfit and also work as a napkin when wiping the food off of your baby when you have no other napkins around.
You can purchase these here on Amazon
.
Highchair
The next thing you will need when you begin introducing baby food is a highchair. It holds baby in a chair that is more up to your level which makes feeding your baby easier.
Not only that, highchairs are nice to have when you are preparing dinner, and can't hold baby. I did this a lot with both of my kids.
I would put some toys on the tray and they could play and still see where I was at.
I used this high chair that you can find here on Amazon
.
Since my kids are close in age, I ended up buying a second one after my son was born because my 2 year old still uses hers.
Spoons and bowls
The last things you will need to make introducing baby food easy will be spoons and bowls. Baby spoons are nice because they are small and soft on your baby's gums.
Not only that, some will actually change colors if the food is too hot.
I personally like the munchkin baby spoons that can be found here on Amazon
which turn white when it's holding something too hot.
I also liked to have baby bowls to serve the baby food out of. What I really liked about these bowls on Amazon
were that they had lids so you could store them and use them when you needed.
Baby Brezza baby food maker
Maybe you have often thought about making your own baby food, and if so a Baby Brezza might be the way to go for you.
It's a lot of information to absorb at once.
If you take anything away, it should be that you should look for cues before you start introducing baby food.
Start slow with simple fruits and vegetables, and make sure you have the necessary items to start feeding baby food to your little one.
Please share and also pin this so you can look back at it as a reference when you need. Also, feel free to subscribe to my newsletter where you can stay up to date on the sweet advice from one mom to another.