Are you a new mom or soon-to-be new mom? If so, the task of baby baths might seem a little scary at first, especially newborns.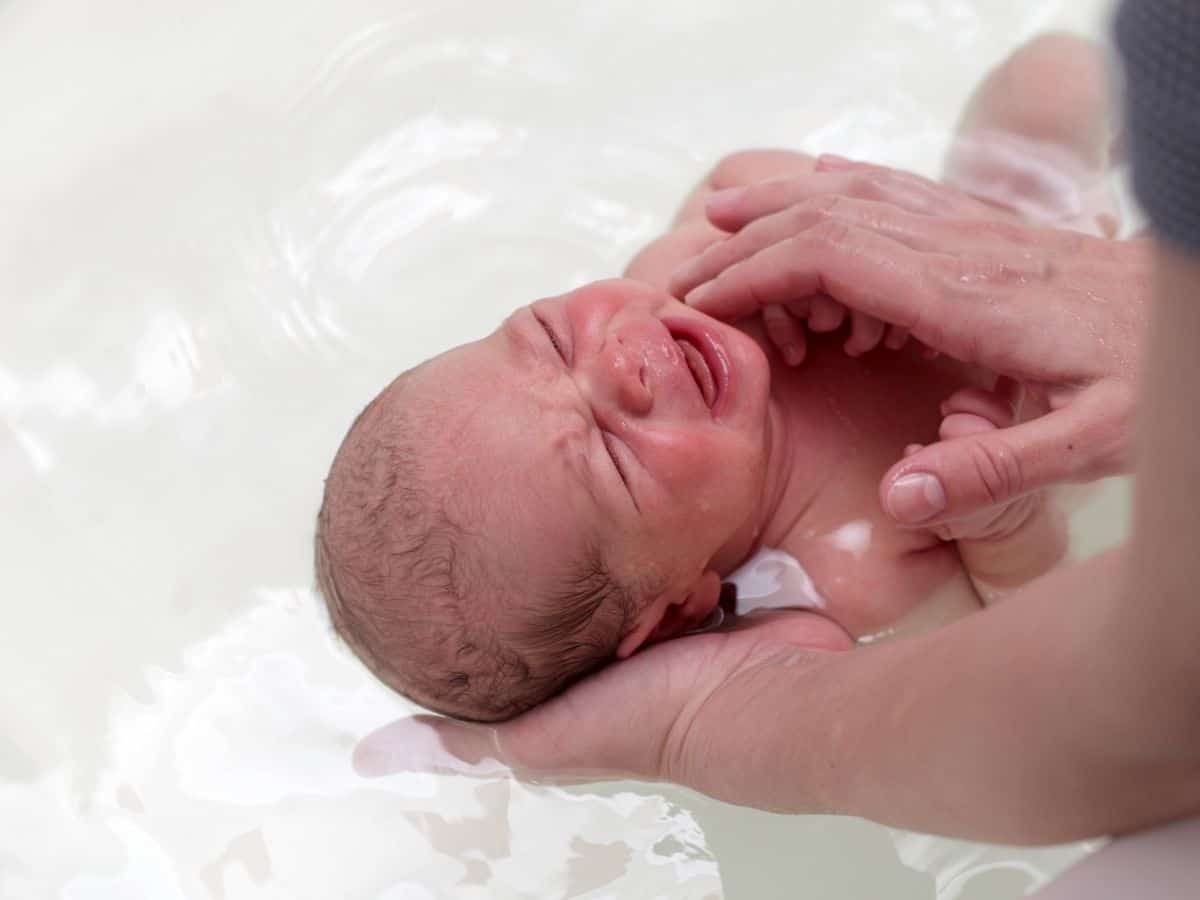 Why? Well, there are a lot of unanswered questions you might have about baby's first bath. Don't worry though, I will address these right now.
Jump to:
How often should baby get a bath
Newborn babies won't need baths everyday. You can aim for about 2 or 3 times a week.
Any more than that, you baby's skin will get really dry.
The exception to that would be if your baby has a blowout and sh!t gets everywhere.
How to bathe a newborn with their umbilical cord?
This is by far one of the most commonly asked questions among new parents. The answer is actually quite simple.
Baby's first bath won't be much of a bath at all. This is because your biggest priority at this time is to keep that cord dry so it will fall off.
It sounds gross, I know!
What you will do is use wash cloths with warm water. To help cushion baby while you are washing him/her, you could get one of these baby sponge mats
.
They are great for baby's first baths up until that stubborn umbilical cord dries up and fall off!
The right temperature
Water temperature is another commonly asked question, but doubly as important. Baby's skin is so sensitive, so you don't want it too hot or too cold.
The ideal temperature should be around 100 degrees Fahrenheit (38 degrees celsius). You can test the temperature of the water by feeling it with your hand so that it feels warm, but not hot.
Another way to test the bath water, if you are unsure, is with a bath thermometer like this digital rubber ducky thermometer
This will definitely give you the added peace of mind knowing precisely what temperature your water is for baby's bath!
How to Give a baby a bath after their umbilical cord falls off?
Hooray! Baby's umbilical cord FINALLY fell off. So...how do you give a baby a bath in an actual tub?
Well, you want to use the same warm water at around 100 degrees Fahrenheit (38 degrees celsius). Also, having a baby bath tub will help save you from using more water than you need and it can help prop baby up before they are able to sit up on their own.
Fill the bath up with three or four inches of water and a few drops of baby wash. Then, place a wash cloth or hand towl down to make it a little more soft.
Place baby in the bath tub, and then place another hand towl or wash cloth over baby's body to keep him/her warm. This helps baby from catching a chill while in the bath.
NEVER leave your baby unattended. Not even a minute! This might seem like second nature, but I am still going to say it. For that matter, during bath time you should have at least one hand on baby at all times.
You can then wash baby's hair and body with some gentle baby wash. Just make sure to rinse it all out to help prevent any rashes.
What helped for us during bath time was to get a detachable hose that you could set up on your shower & bath area. This made rinsing baby so much easier!
Extra tips for parents
Here are a few extra tips for making bath time a fun and stress-free time:
Have everything set out and ready to go before you start baby's bath. This will make things easy, and within reach for when you are giving baby a bath.
Pick a time that you can calmly give baby a bath that won't have to be rushed. Babies will pick up on when you are stressed and they might not like bath time as much as they could!
Instead of buying a baby towl, opt for a nice plush full-size towl. You can then pick a fun color, but this way that towl can be used again and again as they get older.
The last extra tip is to use some baby lotion after bath time to help keep your baby's skin soft!
Baby Bath Gear
1. Baby Bath tub
A baby bath tub will make giving your baby a bath so much easier. This particular baby bath
will fit in most sinks so that you won't have to bend over at least while your baby is still young.
2. Gentle Baby shampoo and soap
To give baby a bath, you will want to have a gentle baby shampoo and gentle baby soap. This is important because your little baby will have sensitive skin.
If you give baby a bath at night time, a lot of companies make a soothing bath soap with lavender to help baby get calm and ready for bed!
3. Bath Thermometer
It's super important to know the temperature of your water before baby's first bath. After you start giving more and more baths, it will be easier to feel the right temperature.
Thank you so much for stopping by and reading. If you enjoyed, please remember to pin this to your baby board on Pinterest. Thanks!!
FAQ
What temperature is best for a baby bath?
100 degrees Fahrenheit or 38 degrees celsius is an ideal temperature.

Some moms go based on how it feels, but for peace of mind, grab a rubber ducky thermometer.
How often do newborn babies need baths?
This will all depend, but usually you can give baby a bath 2-3 times a week. Giving too many baths can dry baby's skin out, so don't overdo it.

Also, if baby had a very bad blowout, you should give baby a bath to make sure it all gets cleaned off.
You might also enjoy reading: