Baby proofing is one of the first things every parent should do when preparing for the arrival of baby!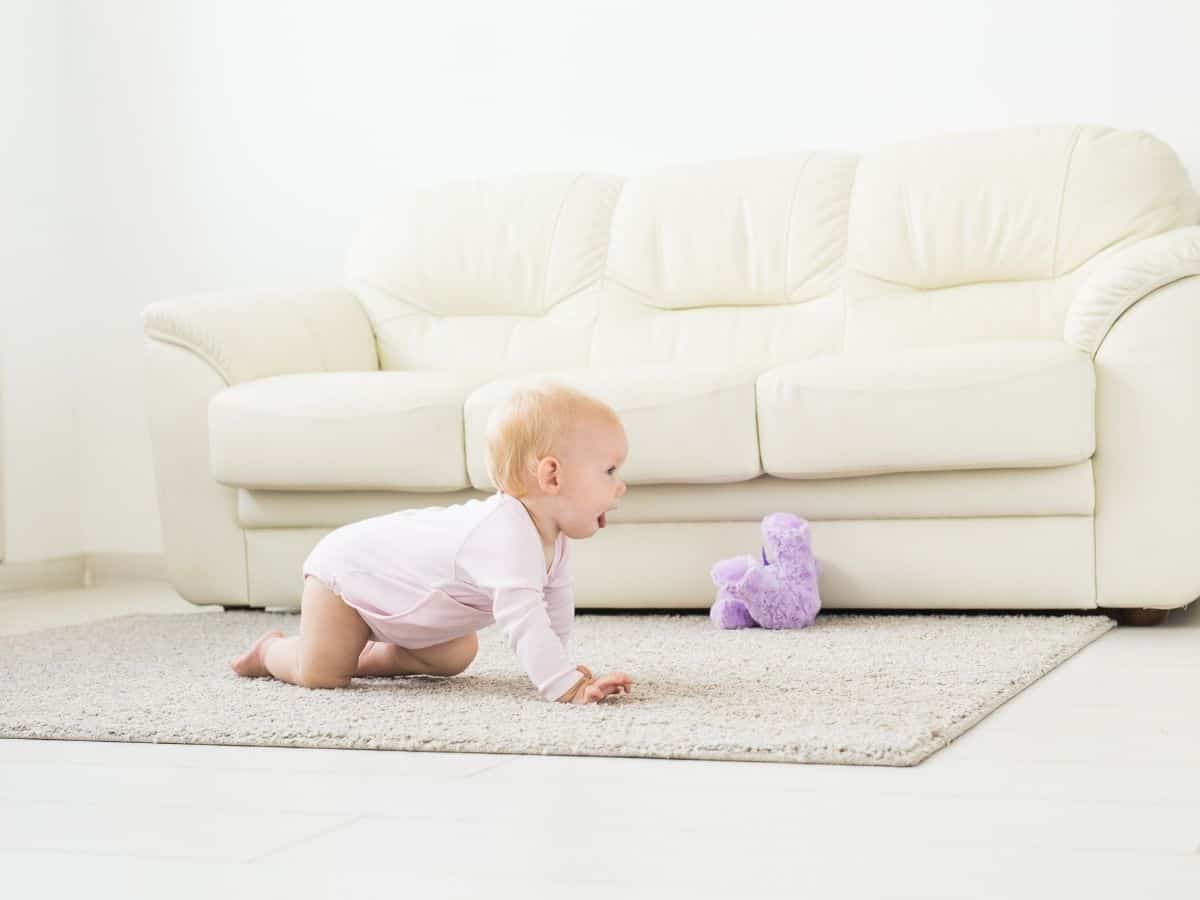 Jump to:
Not only because of safety, but also for your own santiy (more on this later).
How to Baby Proof
When it comes to baby proofing your home, it's important to remember the basics:
Keep harmful objects away from baby
Lock up any chemicals/household cleaners
Keep heavy furniture from tipping over
Cover outlets with protectors
Keep cords away from baby
Store medicine out of reach
Baby Proofing Room By Room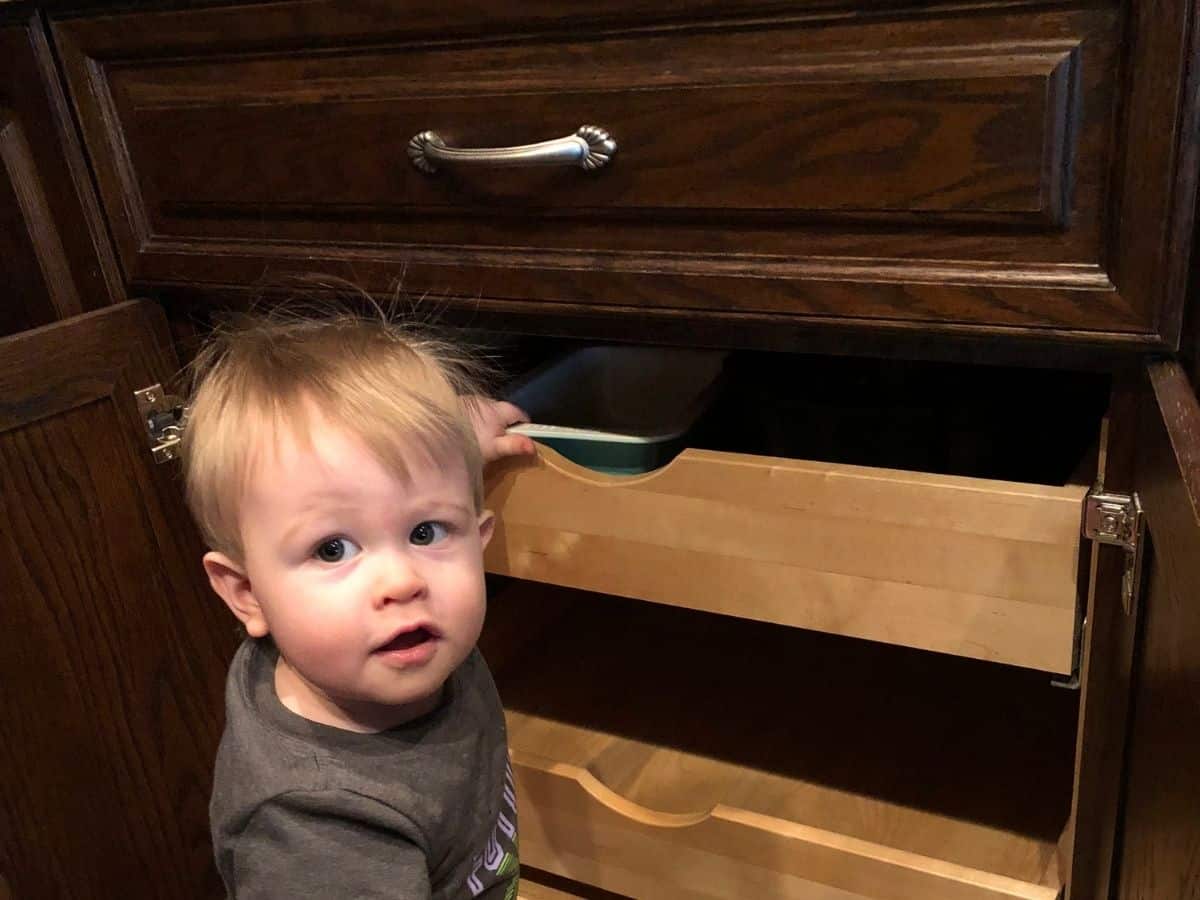 Kitchen Baby Proofing
Let's start with the kitchen as it's one of the most potentially dangerous locations in your home. It doesn't have to be, if you follow these rules:
cabinet locks- prevents little fingers getting pinched, and can also serve as a way to lock up household cleaners that baby should not be around.
outlet protectors-these are a baby proofing must have for every part of your room. This keeps baby from messing with the outlet, and/or putting things into the outlet.
heavy objects or glass objects should be stored out of reach
sharp objects should be stored out of reach
keep baby away from hot surfaces like the oven or stove by placing him/her in their high chair while you cook
remove table cloths to prevent baby pulling it, and whatever is on it down on top of them
Personally, we've used the magnetic cabinet locks
and corded cabinet locks
, but toddlers can figure out the corded ones pretty easily.
Bathroom Baby Proofing
Regardless of how many bathrooms you have, these same rules apply. Yes, even your master bathroom, because baby will follow you in there too! 🙂
cabinet locks- this will help keep your baby out of everything they shouldn't be around.
outlet protectors- again, you will hear me mention these for every room. It's always a good idea to stock up on a bunch of these. Don't worry, they are cheap!
Keep the bathroom door locked, or have a toilet lock so they can't mess with it.
When you give baby a bath, make sure to have a way to test the water temperature. This helps prevent any burns from scalding water. A simple rubber ducky thermometer could make all the difference!
Keep Toilet bowl brush/plunger out of reach
Throw sharp objects (like razors) away in trash cans they can't reach or mess with.
Here is the rubber ducky thermometer
that we found on Amazon which we love! The digital display tells you exactly what the temperature is.
Living Room Baby Proofing
Another room that needs to be baby proofed is your living room. Here's a look at what you need to remember:
Large heavy furniture anchored to walls.
Outlet protectors-are you tired of hearing about these yet?
Cords should be out of reach to little ones
Also, if you have a fireplace, follow these safe procedures:
Keep baby away, while using the fireplace (with a baby gate or place them in a pack n play).
If you have sharp edges around the fireplace, think about using some foam edging.
Keep fireplace pokers up and away from baby.
Baby Proofing Stairs
If you have stairs in your home, its also a good idea to remember that baby gates should be in place at all times. When your little one gets more mobile, he/she can get away from you and the last thing you want is to have your baby fall down the stairs.
Depending on your budget, you can find some according style baby gates cheap. If you want a more sleek design, you can opt for a Summer Infant one
!
Bedroom baby proofing
Bedrooms are another place you don't want to forget when you are baby proofing.
Outlet protectors- yep, you guessed it!
Anchor any heavy furniture to prevent it tipping over and crushing your little one.
If you have any bi-fold closet doors, you might also want to look at investing in some bi-fold closet door locks. This helps keep those little fingers safe from pinches or smashes.
Cords on window blinds are out of reach.
miscellaneous baby proofing
All medicine is out of reach
Place houseplants out of reach
Keep guns in a locked room or gun safe
Litter boxes & pet food should be out of reach or in a room your baby can't get to
Laundry pods should be stored out of reach
Baby Proofing Must Haves
Here is a look at some of the baby proofing must haves that you might need:
outlet protectors
cabinet locks
furniture anchors
baby gate
bath tub spout cover
bifold door lock
fireplace foam edging
Baby Proofing Printable Checklist
Here's a printable checklist so you have all this information in one place!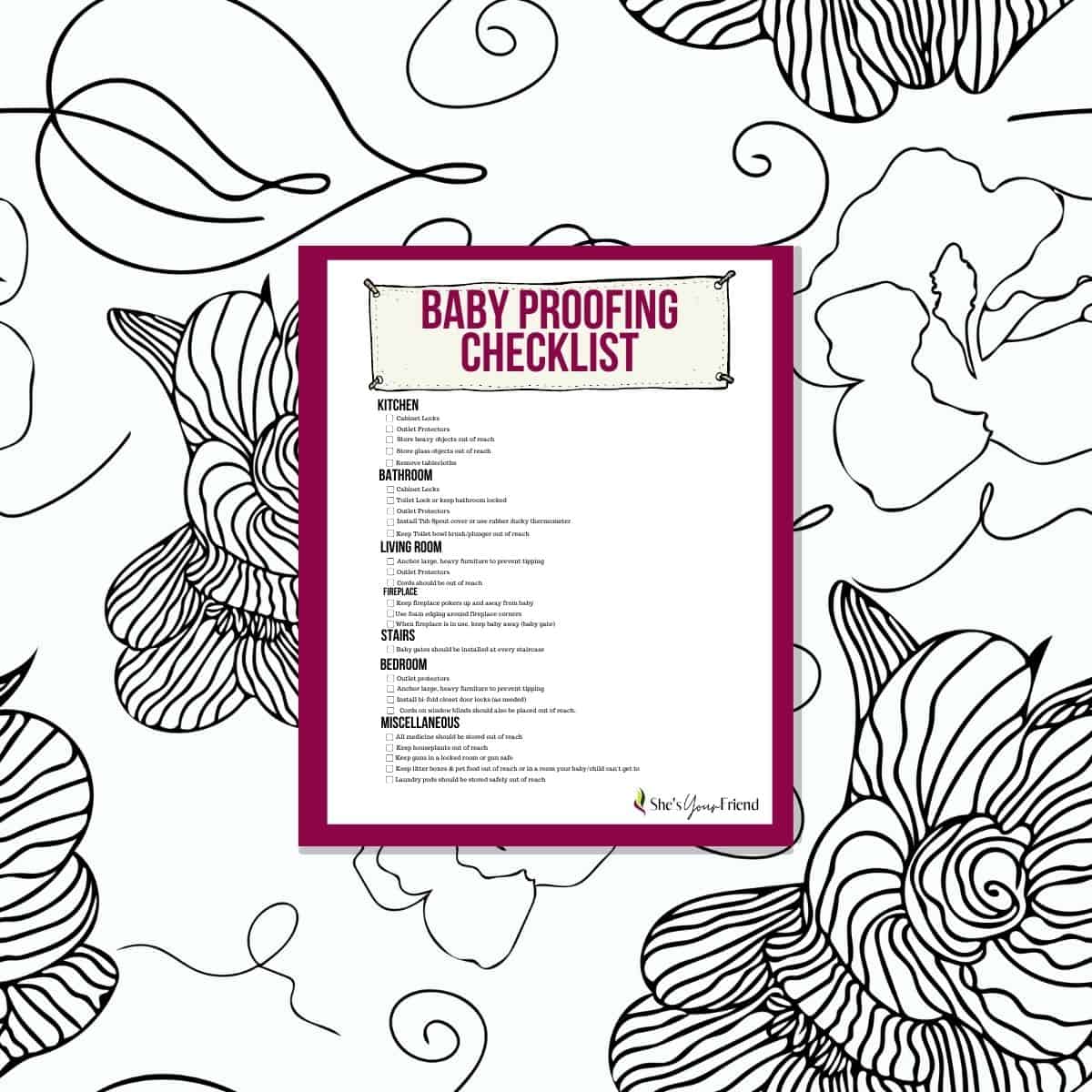 Download your free copy of this baby proofing checklist
Baby proofing can be a time-consuming job, but it's definitely worth it in the long run. Not only is your baby safe, it will also keep them from getting into everything!
Baby Proofing FAQ
When can you remove baby proofing?
At age 3 or 4 you can start thinking about removing baby proofing items from your house. Cabinets that that cleaning products in them though should always have locks on them for safety.
Where to buy baby proofing products?
Baby stores like BuyBuyBaby, Amazon, Target, or even Walmart all have baby proofing products available.
Where to baby proof?
Some of the most important places to baby proof are stairways, fireplaces, and outlets all around your home. Every room in your home should have some baby proofing items in them just to keep baby safe.
What age should you start baby proofing?
As soon as your baby is mobile (crawling around). Grab our printable checklist so you know all the things you should do.
More baby tips & gear