Here is a list of baby medicine cabinet must haves that you will want to have on-hand for all the aches, pains, stuffy noses, and colds your baby will sure to encounter at some point.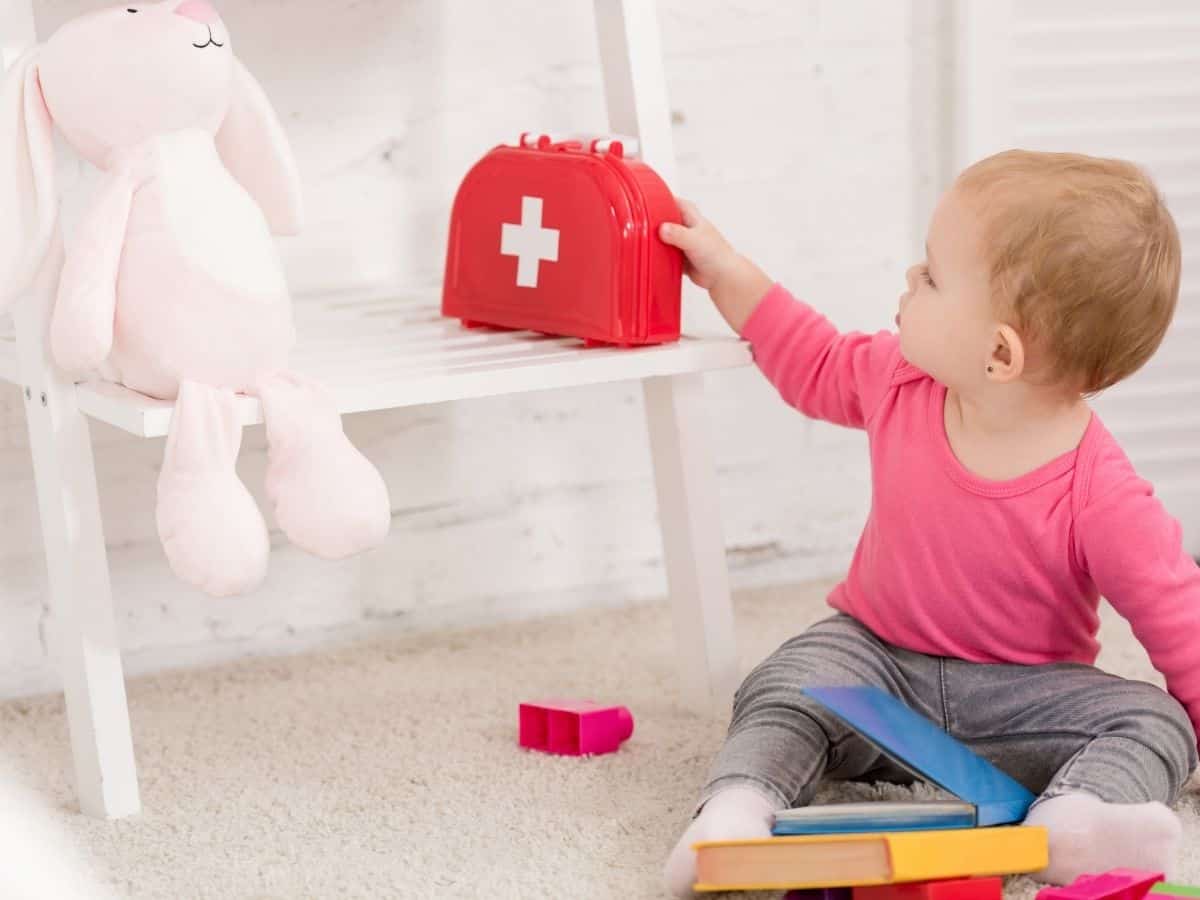 Jump to:
I would strongly suggest you check with your baby's pediatrician if you have any questions, but these are what worked for me and my family!
Baby Medicine You Need
When you are stocking up your medicine cabinet, make sure to have these essentials on hand if and when your baby gets sick:
Infant tylenol & Infant Motrin (fever reducer)
Zarbee's Baby Cough Medicine (cough & mucus)
Nasal Saline (loosen snot)
Prunes & Dark Karo Syrup (constipation)
Baby Orajel (teething pains)
Having these on hand will help if and when your baby is sick. You can read a little bit more about how to help your sick baby here and when to call a doctor.
1.Infant Tylenol & Infant Motrin - fever reducer, pain reliever
They are great for relieving those aches and pains, and reducing fevers caused by colds/vaccinations/viruses/the flu.
We never want to see our baby hurting or in pain, and this can definitely help your little baby!
2. Zarbee's Naturals baby cough syrup- cough & mucus
The product package states, "organic agave and ivy leaf extract help your baby to clear mucus when they are coughing" and it "soothes coughs associated with hoarseness, dry throat and irritants".
I was a little skeptical about it working, but this was so amazing for helping my 6 month old little baby boy when he got RSV.
You can read my full review of Zarbee's baby cough syrup here.
3. Nasal Saline-loosen snot
Another must have would be nasal saline. It loosens snot so that your baby clear it out of his system, or it loosens it enough for you to be able to suction it out using a nose frida or bulb aspirator.
You will use a lot of this even when your baby isn't much of a baby anymore. My daughter is 2 and we still use it on her, and it works like a charm!
4. Prunes & Dark Karo Syrup- constipation
While prunes aren't exactly medicine, they certainly work amazingly for constipation. A little bit of prunes can go a LONG way!
Prunes come in the form of baby food, but also juice. Either way, depending on your baby, will get the job done.
Another tried and true way to alleviate constipation is a small amount of dark karo syrup mixed in with a bottle (I'm more fond of prunes than this route, but as long as your pediatrician gives you the ok, you should be fine).
5. Baby Orajel (benzocaine free) - teething pains
The next medicine cabinet must haves for your baby would be baby orajel WITHOUT benzocaine. Teething is an inevitable stage in a baby's life. In order to soothe these teething pains, baby orajel should always be in your medicine cabinet.
A few months back, the FDA actually recalled all baby orajels that had benzocaine in them. So, if you have any in your house that don't specifically say "benzocaine free", you need to throw them away!
See Related Content: How to soothe a teething baby
Must Have baby medical supplies
Medicine is only one-half of the equation when you are getting your baby medicine cabinet ready. There are also some important tools that you should also have. Here's a brief summary of these:
Bandaids & Triple anti-biotic ointment
tweezers
ice pack
thermometer
bulb syringe or nose frida
diaper cream
baby sun block
mosquito repellant
1. Bandaids & Triple Anti-biotic ointment
While this might seem like a given, it's still important to note that babies will get boo-boos (can you tell I don't have much social interaction with other adults...LOL). This is where having some triple anti-biotic ointment and some fun bandaids come into play!
Not only will it help speed up the healing process, it can make your little one feel a lot better with a cool bandaid.
2. Tweezers-splinters
Even young children can get splinters, so it's important to have some tweezers on the ready.
3. Ice pack- swelling, fevers, teething
Ice packs do wonders for swelling and also for reducing fevers. They even make some fun looking ones that are baby-friendly!
4. Thermometer- checking baby's temperature
It's also a good idea to have a digital thermometer that you can keep track of baby's temperature when they are sick.
5.Bulb syringe or nose frida- sucking snot out
My personal favorite is the nose frida, as it really gets more snot out than the traditional bulb syringe. Either way though, you are going to want to have at least one of these.
6. Diaper cream-diaper rash relief
Babies get diaper rash for many reasons, and it can be rather painful. That's why it's a good idea to always have some diaper cream in your medicine cabinet.
7. Baby Sunblock- prevent sunburns
Prevention is the best thing when it comes to sunburns. That's why you always want to have some sunblock with you. I would also suggest carrying some in your diaper bag so when you go out, you are prepared!
You can find a complete list of the best baby sunscreen here.
8. Mosquito repellant- keep mosquitoes away
No body likes getting bit by mosquitoes, and little ones have a harder time swatting them away.
That's why you also want to have some mosquito repellant, or my favorite is this creamy baby oil
. It works amazing, and doesn't smell awful like most mosquito repellant.
Bonus, it also works on adults!
If you are expecting a little baby soon, or you have a baby already, you will want these baby medicine cabinet must haves in your house! Remember the must haves for baby that can help alleviate aches, pains, colds, coughs, and more!
Also, please share with all your friends and family so they can know what baby medicine cabinet must haves they should have too!
Baby Medicine FAQ
What baby medicine should I have on hand?
The essentials to always have are infant Tylenol, infant Motrin, saline drops, and Zarbee's baby cough syrup.
What should I have in baby medicine cabinet?
-baby medicine
-thermometer
-nose frida
-mosquito repellant (we like using Johnson & Johnson creamy baby oil)
-diaper cream
-baby sunblock
More baby articles: