Is your little one getting to the point of walking, but hasn't quite got enough courage yet? Maybe he/she is walking with help, but not on their own?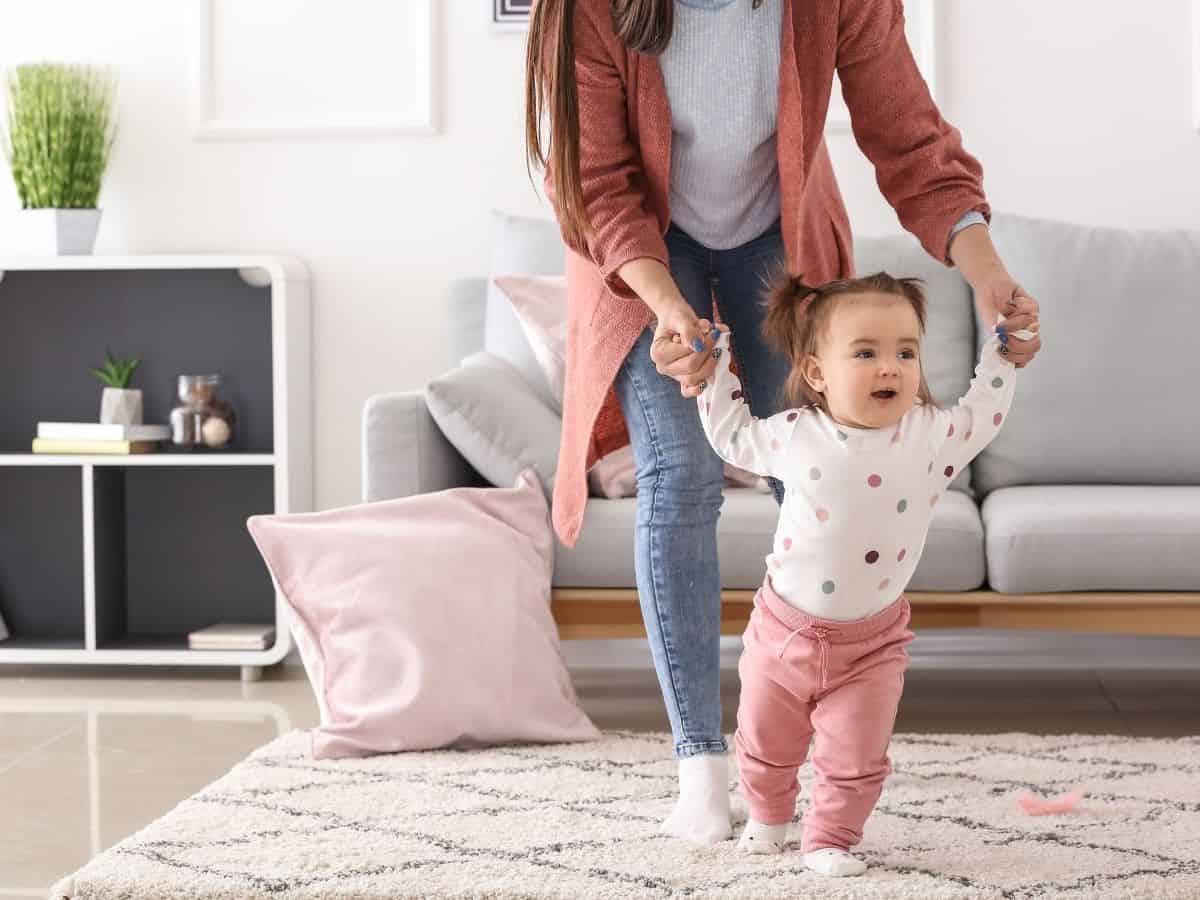 Here are some helpful tips and activities you can do with your little one to boost their confidence and get them walking in no time.
Jump to:
When do babies start walking?
Every baby is different, so there really isn't a right answer. Some babies start around 10 months and others wait until they are at least a year old.
Don't start worrying because your child isn't quite interested in making those first steps. We will get to some activities to help in just a bit.
My first child walked at around 10 months old, but my second child was almost a year old by the time he was walking. Like I said, every baby is different!
Signs your baby is ready to learn
Your little one starts to pull themself up to stand
Standing on their own
Can take steps with assistance
Here's the deal, it doesn't matter if they reach milestones at different times then their peers. It is more harmful to expect them to do something because you think they might fall behind.
As long as he or she keeps getting an all clear from the pediatrician wellness exams, there is nothing to worry about.
Activities to help baby learn to walk
1. Walking with your baby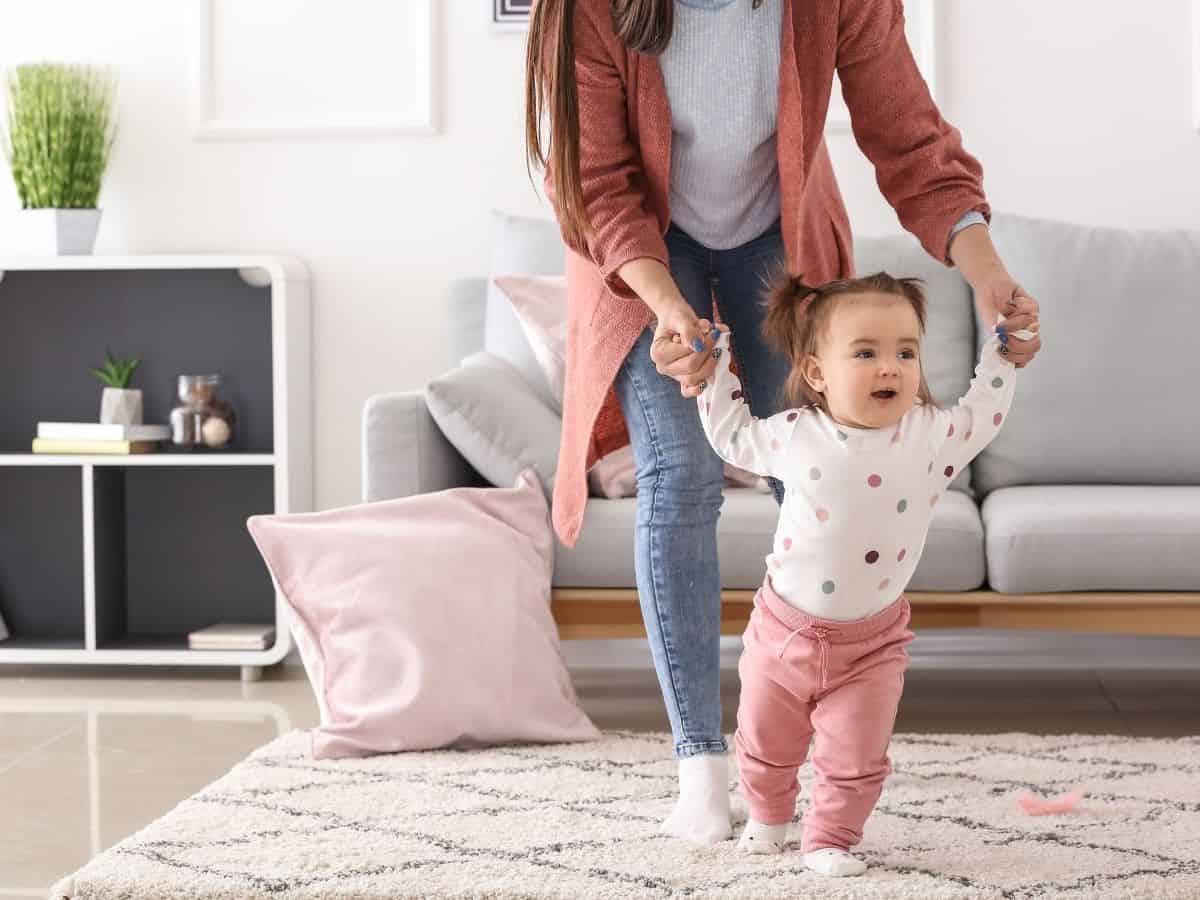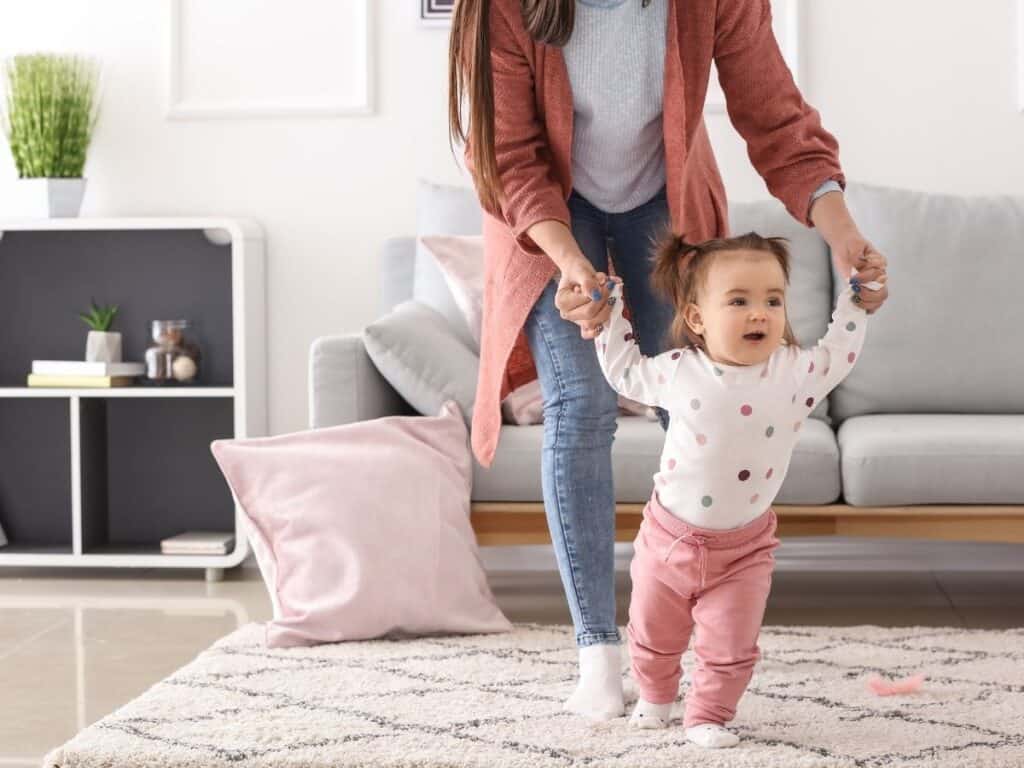 One of the tips to get your baby walking is by walking hand-in-hand with your baby.
I got my daughter to stand up by making it a game. I would say "1..2..3.." and hold on to her hands and help her stand if needed.
Then, I would hold onto her hand and take a step when she does while also saying "Step...step..." this would make her get a huge smile. After she could stand on her own, I didn't hold her hand.
I let her have her hand on my leg, so she would have to do most of the balancing as we took steps.
2. Dance to music
Another idea is to get your baby walking by dancing. I think I started this when my daughter was small, I would turn on some music I like and started jamming out to it.
This got her interested. She started wanted to bounce when she was standing.
This, in turn, got those muscles stronger and it was fun for her. I think the biggest part of teaching your child something is to make it fun.
3. Walkers
The third tip is to use a fun baby walker. They have so many different kinds of walkers out there that have noise makers and flashy things to get your baby interested.
These help build up your little one's muscles. Also, walkers make it fun for your baby to play with and eventually walk.
4. Encourage, and be their cheerleader
The last idea is to get your baby walking by encouraging! This is given.
Just encourage them to take steps, or to stand. Don't have high expectations.
I had no goals I wanted for my daughter, I just wanted to raise her to be a loving and caring little girl. I mainly wanted to be the best mom that I could be to her.
As always, thank you for stopping by and reading! If you enjoyed this article, please share it. 🙂
Baby Walking FAQ
What is classed as baby walking?
When baby starts to take steps unaided by help from you or a walker, it's usually considered walking.
Should babies be walking by 1?
They absolutely can be, but don't rush your little one. If they start showing signs of wanting to learn to walk, encourage them!
How to practice baby walking?
One of my favorite ways to practice is to hold hands with your baby and you walk backwards while baby walks forward. It's a great way to bond, have fun, and teach them to walk.
Are baby walking shoes necessary?
No, in fact I think it's better for baby to learn to walk barefoot. Once they are confident in their balance and you want them to start walking outside then shoes are necessary.
More baby tips