When you think of baby skin, you imagine soft smooth skin. Baby acne is probably something that surprised you, I know it did for me too!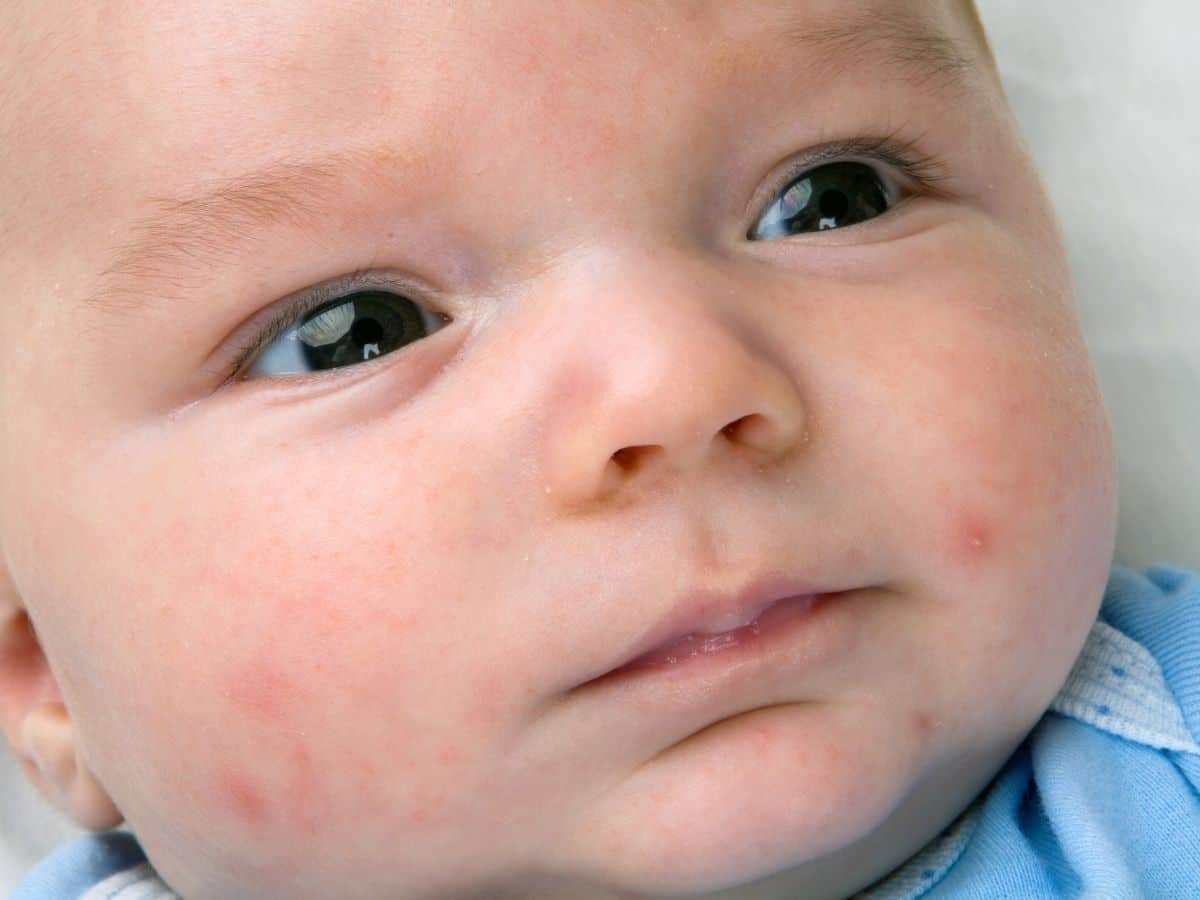 Find out what causes it, and how you can help restore your baby's soft blemish-free complexion.
Jump to:
What causes baby acne?
According to the Mayo clinic, babies get acne because of mom's hormone that they are exposed to while they are still in your uterus.
Baby acne vs eczema
Baby acne and eczema are different. Here's how to figure out what your baby has.
Baby acne will usually be pimples and might have white heads, but are relatively small and circular.
Baby eczema is itchy, dry, crusty, sometimes red and inflamed. Cradle cap is a form of baby eczema that appears flaky.
When in doubt, talk to your baby's pediatrician. They will be able to quickly tell you what it is, and prescribe a cream to help get rid of it faster.
Where does baby get acne?
Babies can get acne in just about all the places we adults do including:
face
neck
chest
arms
legs
head
How to get rid of baby acne?
Switch to a gentle baby wash
Switch to a free & clear laundry detergent
Talk with your pediatrician about eczema, and see if your baby might benefit from a topical cream.
Apply some breast milk to baby's skin.
1.Gentle baby wash
Usually baby acne will go away on its own, but one thing that helped my kids was using this gentle baby shampoo & body wash from Aveeno.
2.Free & Clear laundry detergent
One way to help prevent future breakouts is using a free & clear laundry detergent that is unscented.
If your baby does end up having eczema, this is a crucial step to preventing eczema.
We switched to a free & clear laundry detergent which helped her from getting bad breakouts again.
3. Talk to your pediatrician about eczema
Sometimes the best thing you can do is talk with your baby's pediatrician. Especially if it seems to be bothering them a lot.
It might end up being eczema and not actually baby acne.
My daughter had bad eczema that required a prescription grade cream to help.
4. Apply breast milk to baby's skin
If you are looking for a natural and very safe remedy, apply some breast milk with a cotton ball. Many moms swear by this!
You might also enjoy reading: