As parents, we are often the ones doing laundry until our kids get older, but how do you get rid of stubborn stains on clothes?
Some of the biggest culprits can be baby food, grass stains, ink, gum, and diaper blowouts.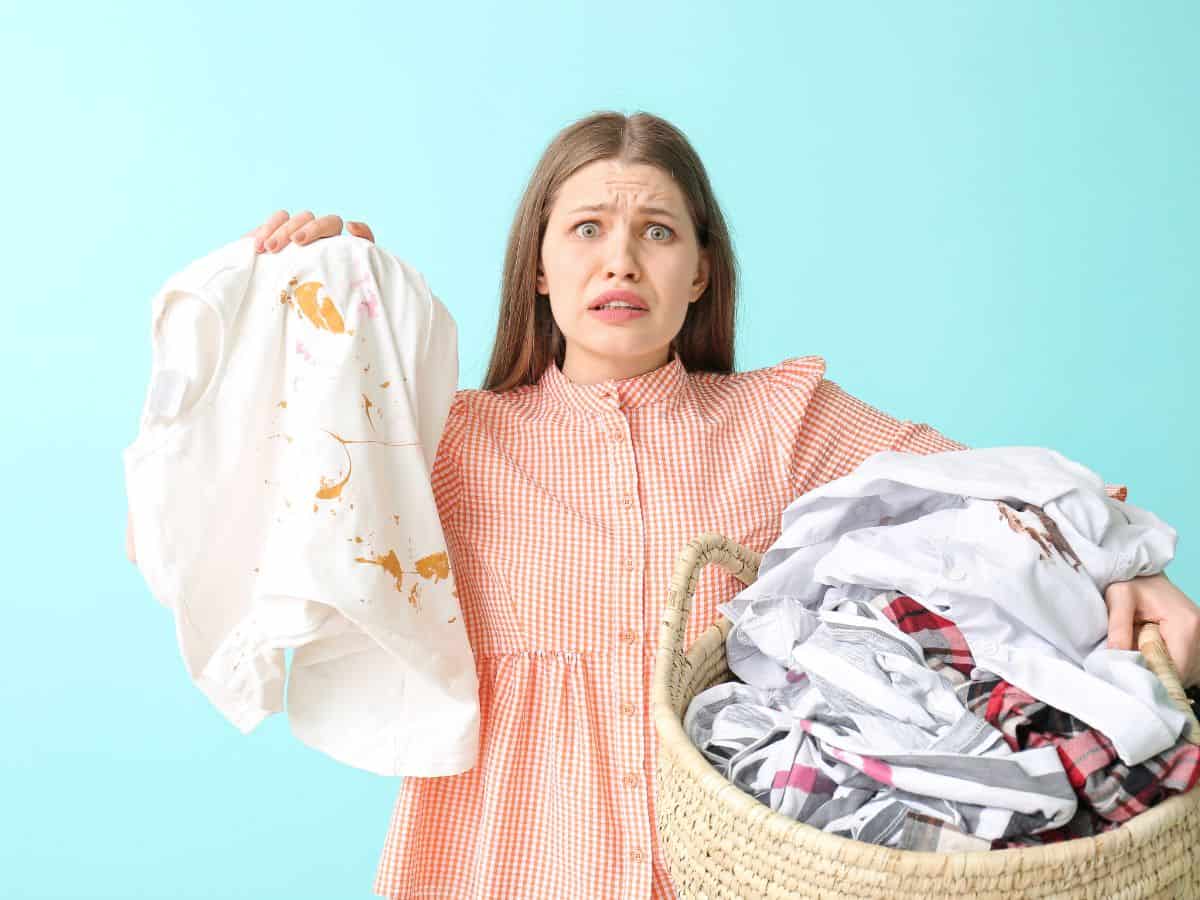 Jump to:
Here's how to tackle each of them:
How to clean baby food stains off clothes?
For a fresh stain, immediately run it under some cold water to help remove most of the stain. Then, apply some stain remover to the spot and then wash it.
Our favorite choice for baby food stains is Miss Mouth's messy eater stain treater. It even works on set-in stains too!
How to remove grass stains from clothes?
Soak the clothes in a vinegar and water solution at a 1:1 ratio. Vinegar helps break down those grass stains and can also leave your clothes looking more vibrant and fresh.
Then, wash as usual after soaking.
Ink removal from clothes
Does your little artist love coloring with pens? Ink is another common stain that can be tricky to remove.
Start by placing a paper towel under the stain, then apply rubbing alcohol to the ink stain. Blot the stain with a cotton pad or cotton ball.
How to remove permanent marker from clothes?
Take the same approach as the ink removal. Place a paper towel under the stained fabric to prevent the stain bleeding through.
Then, add some rubbing alcohol to the spot. Blot with a cotton pad or cotton ball, until the stain disappears.
How to remove gum on clothes?
Gum is another clothing disaster, but it has an easy solution. Place the clothing in a freezer and let the gum get hard.
Then, remove from the freezer and scrape off the gum with a spoon.
How to get diaper blowout stains out of clothes?
This is another stain that should be treated right away because the enzymes in baby poop can stain quickly.
Remove any excess poop, then make a solution of dawn dish soap and hydrogen peroxide at a 1:2 ratio. Then spoon this on the stain, and wash the clothes.
FAQ
How do you remove stains that have been washed and dried?
Fill your sink halfway with water, then add in 1/2 cup of vinegar. Let your clothes soak overnight then wash again.
Can vinegar remove stubborn stains?
Yes, vinegar is one of the best things to try if you have a stain that won't come out.
How to get dried wood glue out of clothes?
Because wood glue is water resistant, it's best to soak the item of clothing in a solution of vinegar and water.

I like to fill a sink halfway up with cold water and then add 1/2 cup-1 cup of vinegar and let it soak overnight in this solution.
More cleaning articles: