Having a hands-free breast pump that you can wear has been a game-changer for moms, but which wearable pump is the best?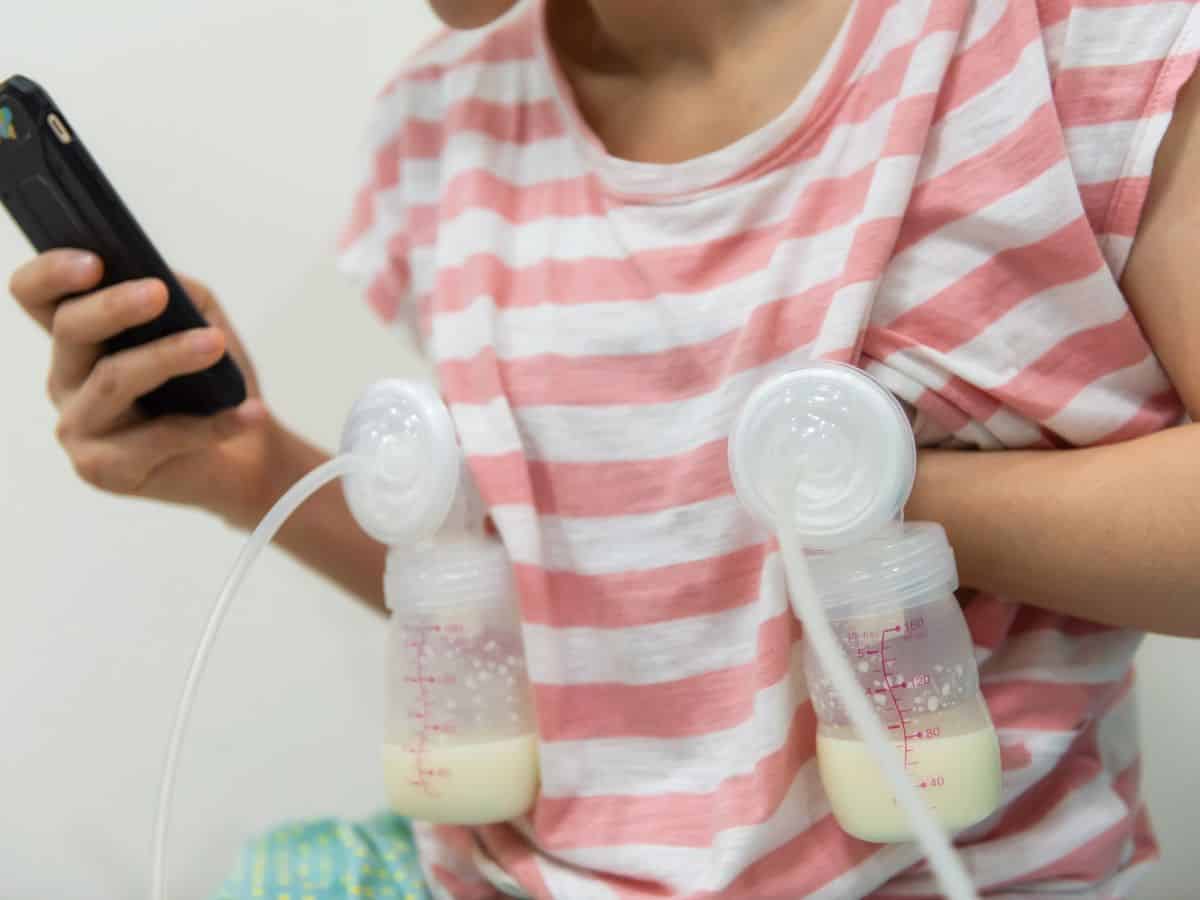 Jump to:
Here's our complete guide on what to look for, our top picks, and more.
Reasons to switch to a wearable breast pump
Hands-free lets you get more done while you are pumping.
You aren't tied down to one place or an outlet.
A lot easier for pumping on the go
It takes less time especially if you can be pumping both sides at once.
Top 3 Wearable Breast Pumps
Willow Wearable Double Breast Pump (our top choice)
Elvie Double Electric Wearable Breast pump (runner up)
Bellababy Double Wearable breast pump (most affordable)
1. Willow Wearable Double Breast Pump
Our top choice is this Willow wearable breast pump. You can pair it to your phone for a more convenient customization.
What we like:
It has 7 different suction levels.
Parts are dishwasher safe.
It's design lets you pump standing, sitting or even laying down.
It automatically transitions to a different suction for letdown so you can get more breastmilk.
What we don't like:
It's noisy, but no more so than the electric breast pumps.
You need to make sure to have a stretchy bra, because this pump is rather bulky.
2. Elvie Double Electric Wearable Breast Pump
Elvie makes a double wearable breast pump that is our runner up with many of the same features as the Willow one.
What we like:
It's a lot quieter than most breast pumps.
Parts are dishwasher safe.
It has 7 different suction levels.
It automatically switches to a different suction for milk letdown.
What we don't like:
It's the most expensive.
Based on the design of this pump, you wouldn't be able to be lying down because the milk needs to flow down into the container.
3.Bellababy Double Wearable Breast Pump
This Bellababy wearable breast pump is very similar in design to the Elvie pump, but with a whole lot more affordable price.
What we like:
It has 9 different suction levels.
You can easily pour the collected milk into a storage bag or bottle after pumping.
What we don't like:
It's harder to clean.
You have to manually change the setting before you letdown.
It's a lot more loud than Elvie.
How to pick the best one
There are a lot of factors to remember when choosing a wearable breast pump.
Easy to clean- according to the CDC, you should be cleaning your pump at least once daily. We like the dishwasher safe pumps because they are just much easier.
Price- being able to afford a hands-free wearable breast pump shouldn't break the bank. That being said, overtime you will be saving a lot of money not buying formula. Also, the pricier pumps have features that are really great.
Easy to use- wearable pumps are supposed to make things easier for you, so make sure you pick one that you can use easily. We especially like the ones that pair with your phone because you can adjust the settings easily.
Automatic setting change for letdown- if you are a seasoned pumping mom this might not be a big deal, but for first time moms it's a must! Pumps that automatically change the suction when you are almost done pumping will help you get more breast milk.
What makes a pump wearable?
The most common type are the breast pumps that fit in your bra and you can wear them while you are doing other things.
A less common option is to use a standard breast pump with a pumping bra that holds them for you. While this is still a hands-free option, you are usually limited to staying nearby your machine.
You might also enjoy reading: