Are you wanting to get a head start to your gardening this year? If so, now is the time to buy seeds to start indoors.
Buying some things online can always be a gamble, but here's where we have found the most luck, and hopefully you will too!
In an effort to fully disclose, this article contains affiliate links for products we have used. If you purchase something, we would receive a commission. For more information, please see our disclosure page.
Best Place to order seeds online
Etsy is without a doubt, the best place to order seeds from. Here are a few of our favorite seeds to buy!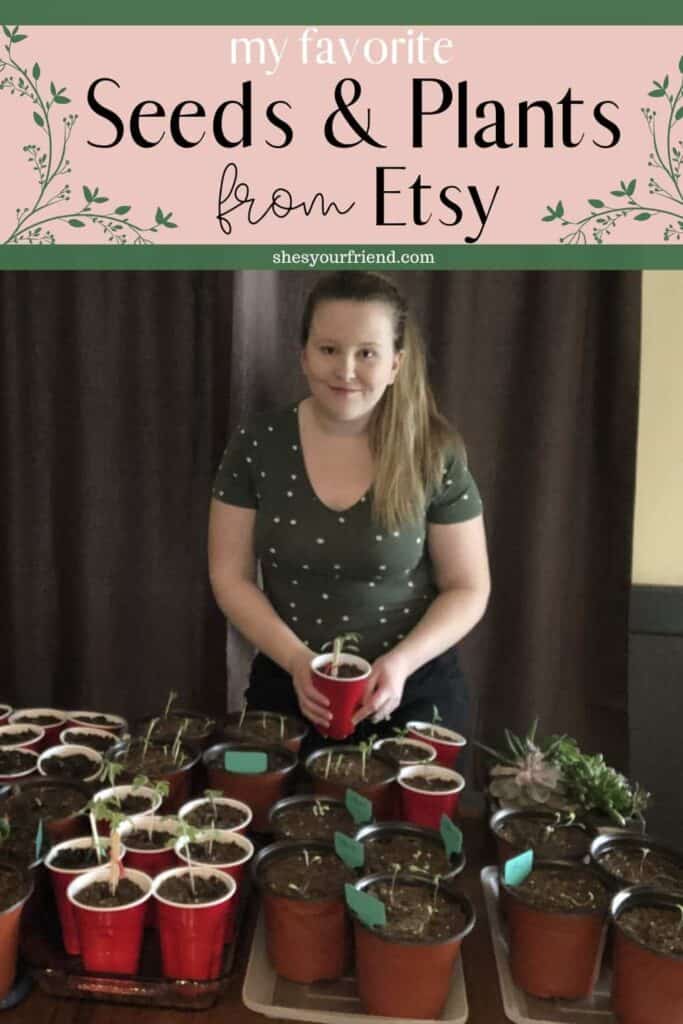 Last January, I ordered 15 bur oak acorns from Outside the Box Shops on Etsy.
Of the 20 I ordered, I was able to get 9 of them to germinate and grow saplings. Now if only I can keep those darn deer from eating them!
2. Sugar Baby Watermelon Seeds
Another great seed retailer on Etsy is The Gardening World.
I purchased some baby watermelon seeds, and every seed I planted germinated and grew!
3. Cantaloupe Melon Heirloom Seeds
If you want to start cantaloupe from seeds, Seed Geeks is another great seed store that ship fast and high-quality seeds.
Seed Geeks was where I purchased these seeds last year and I still have some leftover this year I'm going to plant.
If you are wondering, sugar pie pumpkins are smaller, sweeter pies that are used for making pumpkin pie!
This year my kids want to try and grow carrot seeds, so I'm using Seed Geeks again for this purchase.
6. Flower Seeds
If you are wanting to start some flowers from seeds then I highly recommend You Make Me Smile Seeds from Etsy.
They were shipped quickly, and included little information about each flower and how to grow them!
You will be surprised too with the different varieties of flowers they offer (from zinnias, astilbe, hollyhock, dusty millers, and so many more!)
Best Place to Buy Living Plants online
If you are looking for plants and trees that are already somewhat established, these are some places we have liked in the past.
Proven Winner ( a lot of local nurseries carry these plants, but you can also shop some stuff online.)
They will ship them according to your location and climate.
Last year I had a huge order, and I was concerned by how they would ship it, but everything came delivered in great condition! Will definitely use them again.
I ordered from them about 5 years ago and had great luck with them. I purchased a dwarf lemon tree that came in the mail quickly.
Chief River Nursery ( they offer a lot of trees and shrubs)
I ordered 200 eastern red cedar tree (3 year transplants) a few months ago. Opting for these over the Arbor day Trees, and I'm happy I did!
They were shipped with care to not let the trees dry up. Would definitely recommend them again!
Etsy ( I have always had great luck with seeds, and this year I am going to be ordering another dwarf lemon tree. Fingers crossed!)
Hope this helps all you fellow home gardeners! Know of a place I didn't mention? Leave me a comment below!