Are you needing a new tv show to watch? If so, these are some of the best period piece tv series to watch! You will feel transported into the past, while enjoying some amazing storylines.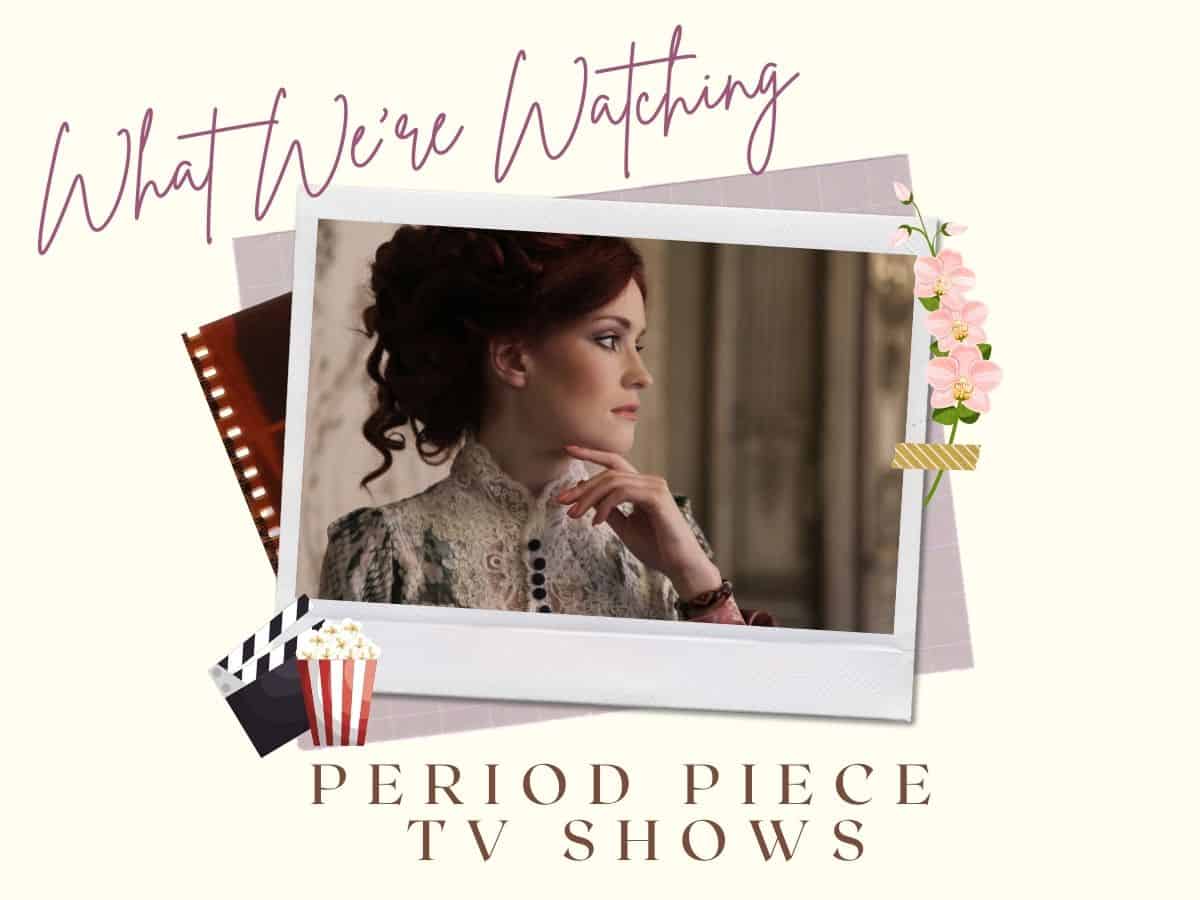 I share a brief explanation of each tv series, but no spoilers are told!
Favorite TV Shows
1. Outlander (Starz)
Outlander has two settings, the 17th century and the 20th century. It's about a young Scottish outlaw who helps rescue a british woman who is lost because she somehow time traveled. A romance develops and she finds herself falling for this unlikely man. Based off the book series, this tv series is extremely addicting to watch. There are 6 seasons so far, and currently the 7th season comes out Friday June 16, 2023. I have been waiting forever for this new season to be released, because I'm 100% vested in what happens.
2.The Nevers (HBO Max)
This new tv show on HBO takes place in 1899 in London. A group of mostly women have unique powers and abilities called the Touched. One of them named Maladie is killing people. Stirring the Londoners to distrust these different people. While some think its witchcraft, and others think they are an abomination, two women help create a refuge and use their abilities for good.
3. Spanish Princess (Starz)
The Spanish Princess is a historical fiction about a Spanish Princess who becomes queen of England. The journey she goes through from being dowager to queen yet again. She is a powerful and stubborn woman who knows how to get what she wants.
4. Bridgerton (Netflix)
This new tv series is on Netflix and is the talk of social media! With good reason, because this dramatic tv show follows a group of girls who are entering into society to find marriages. It has all lavish balls, exquisite parties, and a mystery gossip writer who reveals everything about everyone! My opinion is that it's a Victorian era Gossip Girl. You will LOVE it.
5. The Alienist (HBO Max)
This tv series is on HBO Max and takes place in the Victorian era. A group of Alienists (what we would now think of as criminal psychologists) try to solve a gruesome series of murders. The local police are corrupt, and not as interested in solving the murders that is until the alienists become involved.
6. Frontier (Netflix)
Frontier takes place in colonial America when fur trade was the main resource for income. It follows the adventures of one outlaw who tries to weaken the main fur company for vengeance. This show has action, adventure, romance, and really makes you feel for the characters. I never would have thought colonial America would be an interesting time period for a show, but this truly is!
7. Radium Girls (Netflix)
A group of factory girls who paint glow in the dark paint onto watch dials keep getting sick and some of them die. It's not until they realized it's because of the radium inside the glow in the dark paint. Even worse though, the company knew about it, but never warned them. This tv series follows these girls while they sew the company in hopes of making it illegal to use radium.
8. Poldark (PBS Masterpieces)
This is another historical fiction tv series that takes place in 1780s in Britain. A young captain by the name of Ross Poldark returns from the war of the Americas. The love of his life is now engaged to his cousin, as he was held prisoner for 3 years. He soon puts himself to work with the mine his father owned and left to him.
If you enjoyed watching Outlander, this is equally an amazing show that will see you through "drought lander" and then some!
9. The Gilded Age (HBO Max)
This series will remind you a lot of Bridgerton, and it takes place in 1800s America. A group of old aristocratic "old money" women are not welcoming to the newer people who have worked for and created their wealth. The pressures of society are no match for one up and coming couple, the Russels.
You can watch this hit new series on HBO Max.
10. Enola Holmes (Netflix)
Enola Holmes is a young detective who's trying to make a name for herself so everyone will stop asking her about her brother Sherlock. It takes places in the Victorian period and is very interesting! Season 2 was just released November of 2022 and it's just as good as the first.
11. The Empress (Netflix)
The Empress is about the Austrian Empress, how she met the Emperor Franz and their early life together when they marry. Life in court, the revolutions, and drama all play a part in this historical fiction series on Netflix.
12. Jamestown (PBS masterpieces)
This historical fiction takes place in Jamestown Virginia in the 1600s. Women are finally coming over to the settlement and it causes for quite the commotion. With 3 seasons to watch this show is a must! Watch it on PBS masterpieces.
13. Sanditon (PBS masterpieces)
Sanditon takes place in the early 1800s of England in an up and coming town. It follows Charlotte, a farmer's daughter as she visits this prestigious coastal town of Sanditon. It's like Pride and Prejudice meets Downton Abbey in this dramatic series. Filled with romances, scandals, and lots more to keep you binge watching! You can find this on PBS masterpieces on Amazon and even snag a free trial.
Keep checking back or pin this for later because as we find new period piece tv series worth the mention, we will update you!
You might also enjoy reading: