Cleaning is a love hate relationship for many, but it doesn't have to be with these amazing cleaning hacks!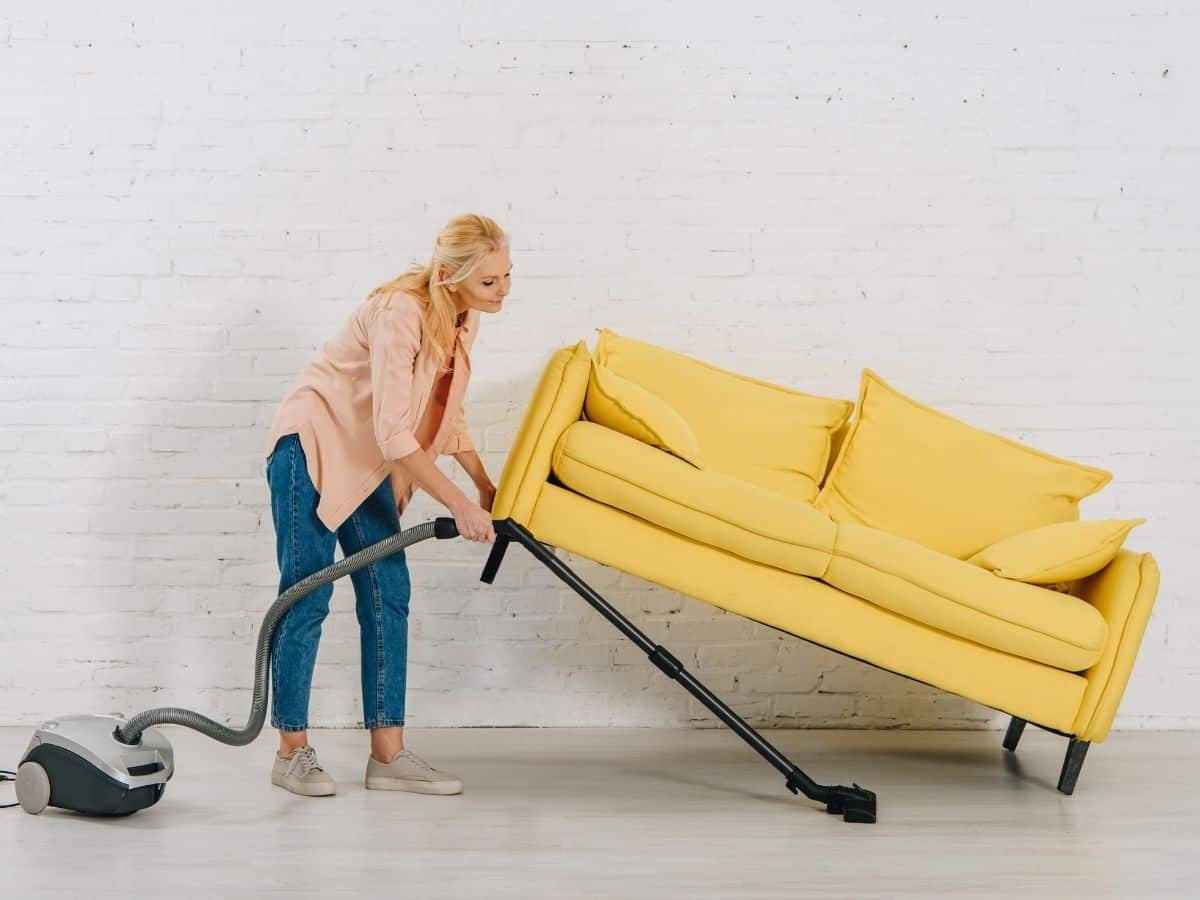 Check them out for yourself and see all the different ways to simplify your cleaning routine. You can learn more about spring cleaning here and get a free printable checklist for deep cleaning.
Jump to:
Kitchen Cleaning Hacks
Kitchens are one of the most used rooms in your house, so why not learn a few kitchen cleaning hacks to make life a little bit easier for you!
1.Citrus Fruit Peels
One of the hardest kitchen cleaning areas would have to be the garbage disposal. Some people might even think, why would you need to clean it?
Well, the answer is actually quite simple...smell.
If your kitchen has started smelling bad, but you can't isolate the problem...it's probably your garbage disposal.
Try placing some orange/lemon/lime peels into your garbage disposal and then run it. The citrus peels will help freshen up the smell, but also help clean it because of the citric acid found in these peels!
2. Baking Soda & Vinegar
Baking soda and vinegar are two great things to always have plenty of when it comes to kitchen cleaning. Why? Well, they can be used to clean many different things!
Do you have some baked on grease that is stubbornly sticking to your glass stove top?
Place some baking soda on the spot/area and then pour a little bit of vinegar over the baking soda. Let it sit for about five minutes.
Then, with a microfiber towl, scrub the baking soda. This will act as a natural soft scrub that is still gentle on your glass surface.
Another place baking soda and vinegar can be used in kitchen cleaning is your sink drain. Baking soda and vinegar can help with small clogs won't let the sink drain properly. Simply sprinkle the baking soda into the drain. Then, pour in the vinegar and let it work it's magic.
Do you have some pesky fruit flies hanging around your kitchen? Well, pouring baking soda and then vinegar into your kitchen drains/garbage disposal will help stop the breeding of those gnats.
3. Lemi-Shine
Do your dishes constantly come out of the dishwasher with hard spots on them? Even after you have a water softener? Well, try getting some Lemi-Shine powder! You pour it into where you would place a pod and then place a pod next to it.
If your dishwasher doesn't have the capacity for both, place your dishwashing pod directly into the dishwasher. Then, run it like normal!
I was pleasantly surprised how well this helped with our hard well water. It's now my go-to source and I tell everyone about it!!
That being said though, Lemi-shine is a temporary fix to a bigger problem. Your water softener may just not be up to snuff in handling your hard water.
4. Norwex
The beauty of Norwex cleaning towels are that they can clean lots of different surfaces without any cleaners needed. You take one and get it wet, and then wipe it on the surface you are trying to clean (ie. glass, oven fronts, refrigerator) and then you dry it off with another Norwex towel.
It will be streak-free!
Another great perk about Norwex is that it is created with silver fibers, which stop the growth of bacteria and mold. This means you won't need to wash these as frequently as you would regular towels. YAY!
Cool right?
5. Pledge
Another great resource to have for kitchen cleaning would be pledge. Especially if your appliances are stainless steel, like mine!
Stainless steel is notorious for showing fingerprints, and smudges. Do you want an effortless stainless steel cleaner?
Well, pledge is where it's at!
Try it out and see what an amazing difference it makes in those smudges!
You can find pledge here on Amazon or in your local store in the cleaning aisle.
6. Stainless Steel Sink Faucet
I actually learned this kitchen cleaning hack while I was in a culinary class in high school.
If you happen to get a nasty smell on your hands that you can't seem to get rid of, rub your hands on the faucet. The stainless steel will help remove the odor!
If you don't have a stainless steel faucet, you can also pick up one of these stainless steel hand cleaners.
Bathroom Cleaning Hacks
Bathrooms are another place that requires constant cleaning, so check out these genius cleaning hacks!
1. Pumice stone
This is an amazing thing to have on hand for cleaning toilets!
To make a long story short, we had to use a sewer snake to clean out one of our toilets. Unfortunately, we made the mistake of not taking the toilet off first.
What we were left with was some unsightly metal scuffs! To our surprise, they came off when rubbed with a pumice stone. Just make sure to wear gloves when you are sticking your hand down there.
A pumice stone is also great for hard water stains and build up on ceramic toilets, and sinks.
2. Pledge those faucets
Again, IF you have stainless steel faucets, using pledge will help leave them sparkly clean and smudge-free!
3. Baking soda and Vinegar to the rescue again!
Good old baking soda and vinegar also can help you clean the grout in your bathroom. What you will do is make a paste with baking soda and water.
Then, scrub it into your grout with a toothbrush you are willing to part with. Finally, fill a spray bottle with vinegar and spray it onto your baking soda paste that you have scrubbed into your grout.
Voila! Clean grout that would make anyone happy.
If that doesn't do the trick, you can also try some magic erasers! Seriously, magic erasers are amazing at cleaning things.
Other Miscellaneous Cleaning Hacks
Just when you think it couldn't get any better, there are a few more cleaning hacks every one should know.
1. Magic Erasers and marks on your wall
This was a trick I learned back when I worked at a Veterinary clinic. To this day, I will ALWAYS reccommend them.
What you do is get the magic eraser wet and then wring out most of the water. Then, go to town on those markings or "artworks" your kids decided to make on the wall.
2. Laundry Stain Removers
Melissa Maker from Clean My Space has some more great resources all about tackling laundry stains. So check out their laundry stain remover article here.
They can help you tackle stains from makeup, grass, oil, and so much more!
See related content: Spring Cleaning (with a free checklist)
There are so many more cleaning hacks out there, but these are just the ones I know about! Thanks for stopping by and reading these cleaning hacks. Hopefully it will make your job of cleaning much easier!!
If you enjoyed reading this, please share it on Pinterest. Thanks!
You might also enjoy reading: