Looking for the perfect gift to show your little one your love on Valentine's Day? Well, you've come to the right place!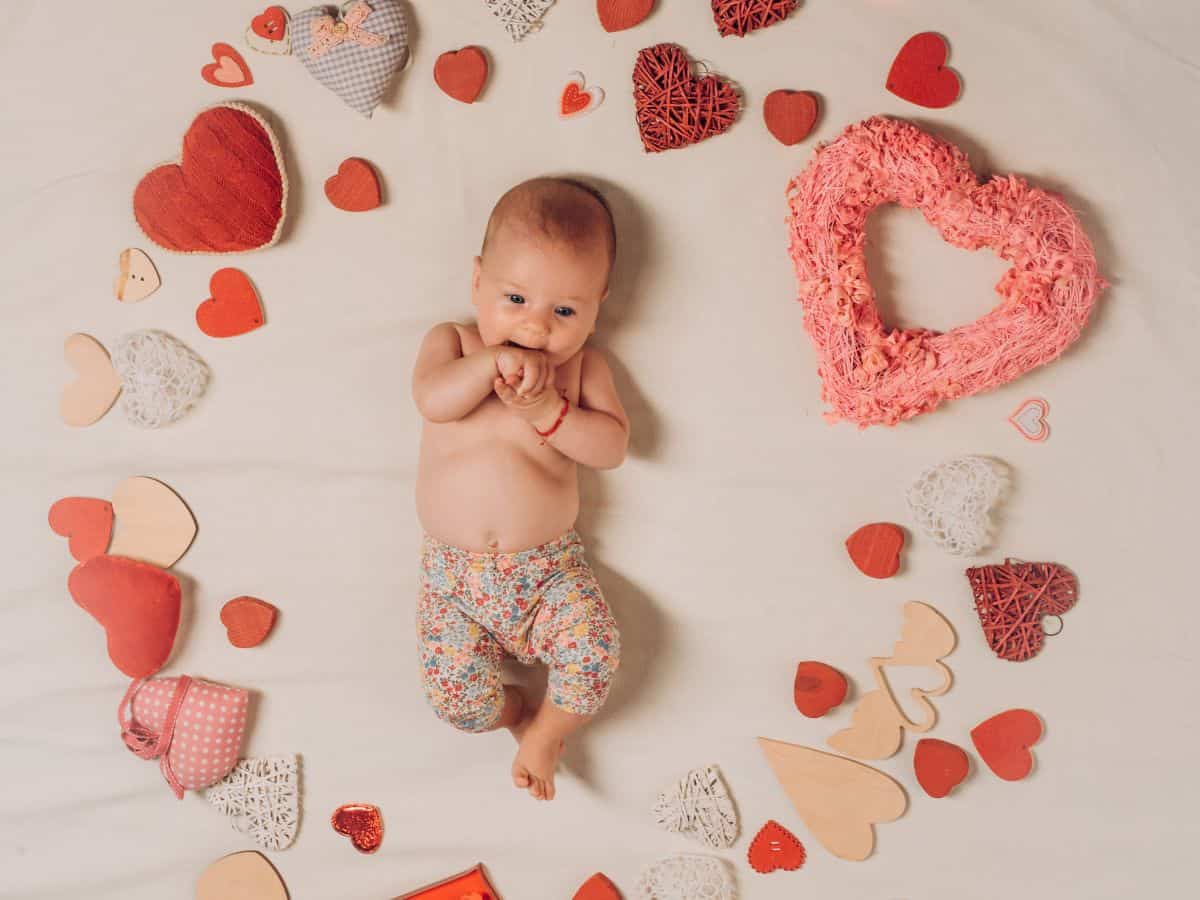 Celebrate your baby's first Valentines with these sweet and lovable gift ideas.
Jump to:
Gift ideas for baby
1. Construction Site: You're Just right board book
We love a good board book and Valentine's day is the perfect time to find some fun great stories to read to baby!
Construction Site: You're Just Right has some fun rhymes and beautiful illustrations.
2.Teething toy
This pink elephant teething toy is another small gift that baby will love. Teething toys are a must especially with baby starts having teeth coming in.
3. Pacifier clip
If your baby uses pacifiers, grab a fun pacifier clip for Valentine's day! A great little accessory that helps keep those pacifiers from getting thrown on the ground.
4. Waterproof bibs
A gift for baby can be very useful like these gorgeous waterproof bibs. We especially like these because they are very easy to clean.
5. Silicone stacking rings
These heart shaped stacking rings are another great gift idea that babies love playing with.
My babies always giggled when they would knock down the stacked rings, which was so cute to watch!
6. Valentine's Socks
Grab some Valentines themed socks for your baby. We like this gift set because it has socks for some of the big holidays including Valentines Day, Easter, and Christmas.
First Valentines Outfit
An outfit is another great gift idea for baby. Here's some of our top picks:
7.Little Love Long sleeve onesie
This long sleeve onesie is perfect for Valentine's Day! Baby could wear this long after Valentine's day too depending on which color you choose.
8. Ribbed Short Sleeve Heart Outfit
Another Valentine's outfit that baby could wear even after February is this short sleeve one from Amazon. It even comes with a matching headband!
9. RuffleButts Baby Romper
Your baby girl will look so cute in this red romper for Valentine's day! Pair with some cute long socks or leggings for a complete look.
10. Mama's Valentine Outfit
Every baby boy needs this adorable mama's valentine outfit. So dang cute!!
Baby's First Valentine FAQ
What should I do for baby's first Valentine's Day?
Get baby a fun Valentine's themed outfit and takes some cute pictures! Moments like these are always fun to look back on. You can also give baby a gift like a teething toy or board book!
You might also enjoy reading: