Weighted blankets have a lot of great benefits, but how do you choose the best one for you? Here's a complete guide on what you should know.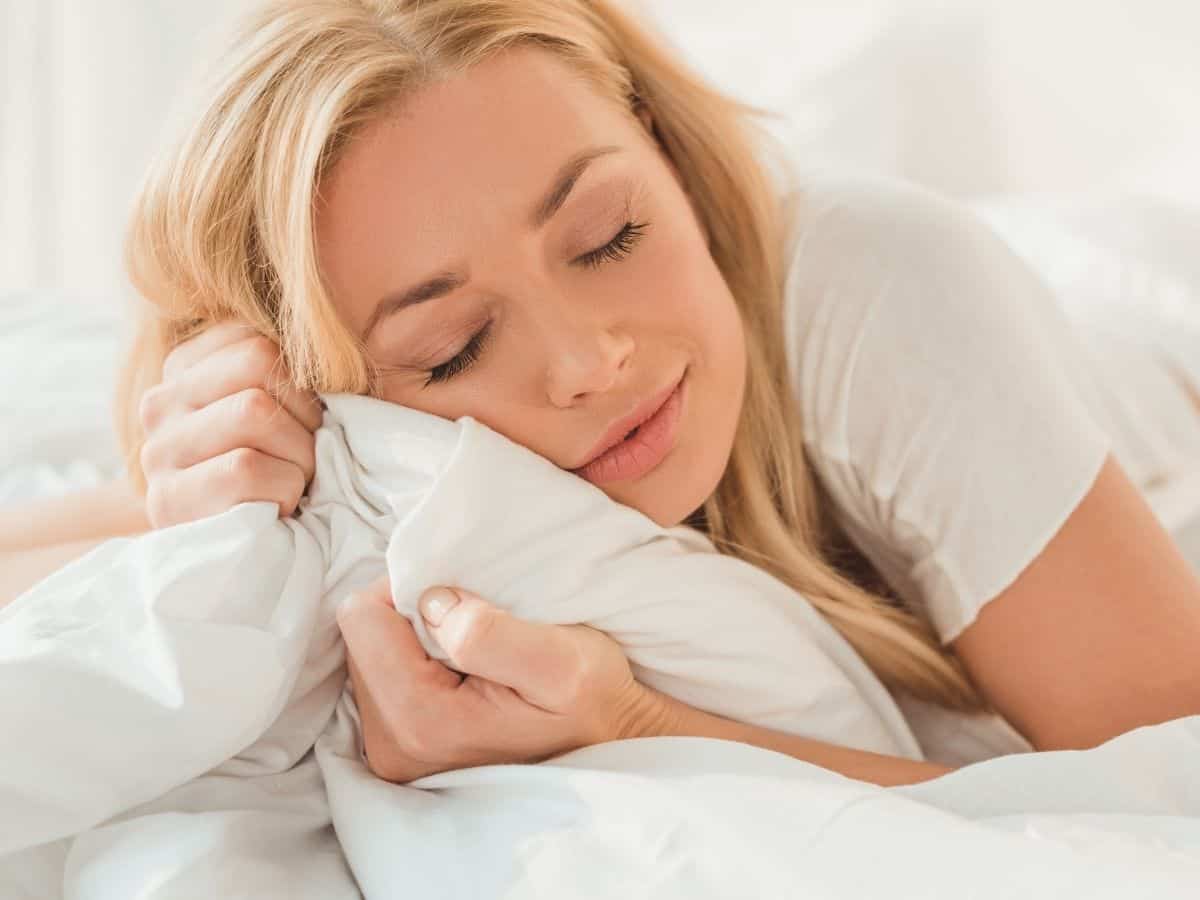 Jump to:
Top 3 Weighted Blankets
Weighted Idea cooling weighted blanket (best for hot sleepers)
Sherpa Fleece Weighted blanket (best for people who get cold)
Degrees of Comfort Weighted Blanket (best value)
1. Weighted Idea Cooling Blanket
This cooling weighted blanket is perfect for hot sleepers.
If you are like me, there are nights where you want a weighted blanket but you don't want to wake up in a pool of sweat either.
2. Sherpa Fleece Weighted Blanket
Do you typically like to sleep with really soft warm blankets? If so, then this sherpa fleece blanket is perfect!
3. Degrees of Comfort Weighted Blanket
By far this weighted blanket gets you the best of both worlds. It has the weighted blanket insert and two separate covers (one for summer and one for winter).
What is a weighted blanket?
Weighted blankets are blankets with weighted beads in the lining that weigh the blanket down.
It's feels like a hug while you sleep!
Weighted blankets can also help you fall asleep faster, reduce anxiety, and help keep you from waking up in the middle of the night.
Weighted Blankets FAQ
Are there different kinds of weighted blankets?
Weighted blankets have a couple of different options from weight to the fabric it's made out of.

For those hotter months, they have a cotton comforter. Or if you like soft fleece blankets, they also make a sherpa fleece weighted blanket.


Do they make weighted throw blankets?

Yes! These would make the perfect blanket to have around the couch to snuggle up on and watch some Netflix.

This one by Degrees of Comfort comes in 7 different colors. My favorite being the blush!
What is the right weight for me?

The weights coincide with how much you weigh.

-adults weighing 110-140lbs should use a 12lb blanket
-adults weighing 140-190lbs should use a 15lb blanket
-adults weighing 190-240lbs should use a 20lb blanket

When in doubt, most manufacturers say to start with a lighter weight if you aren't quite sure what to start with.
Is there any reason why you shouldn't use a weighted blanket?

If you have breathing difficulties or impairments, ask your doctor first. Also, young children should be careful as the weight can make it hard to breathe while sleeping.

They do make kids weighted blankets though, but the weight of those are much lighter.
Do you have a weighted blanket? If so, which one is your favorite? The cotton one or the super soft fleece one? Leave me a comment below!
You might also enjoy reading: