Just because you had a baby, doesn't mean you have to sacrifice on style when it comes to diaper bags and backpacks.
A long time ago, there really weren't as many diaper bag options as there is today (YAY!).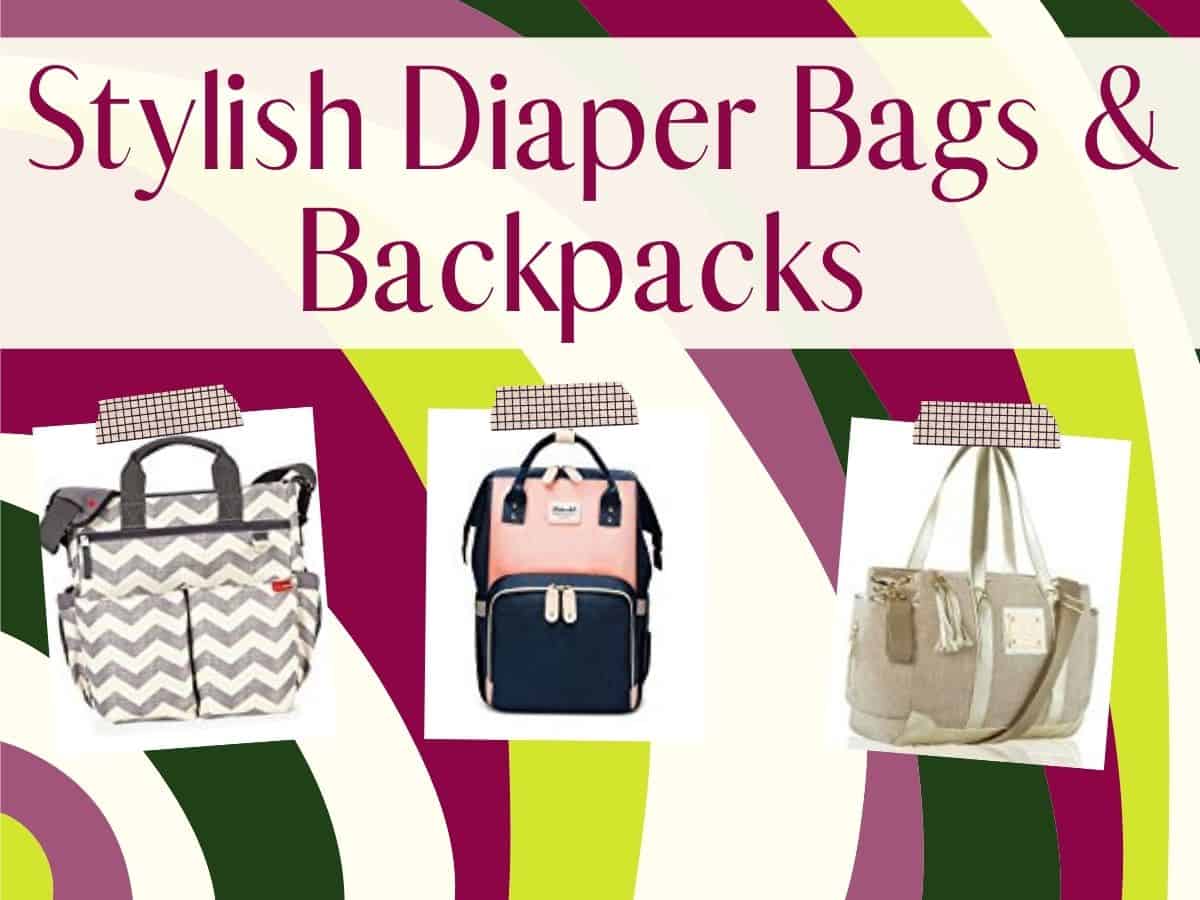 Jump to:
Here is my list of the best and most stylish diaper bags and backpacks so you can find the perfect one for you.
Stylish Diaper Bags
Skip Hop Duo

I used this exact diaper bag with both my kids and LOVED it. I received it as a baby shower gift when I was pregnant with my daughter and I am still using it with my son.
What's nice about this, is that this diaper bag is spacious! It can hold a lot of stuff, and I like to be overly prepared when I go out and about with my kiddos.
It also comes with a travel diaper changing pad. Not only that, it has a lot of pockets so you can be organized, or at least half-way organized.
Blissly Diaper Tote bag

This Blissly diaper bag, like the skip hop duo, has a ton of storage pockets and the overall style of black and white stripes is classic. At first glance, it doesn't even look like a diaper bag.
Also like the Skip Hop Duo, it comes with a changing pad. It has plenty of pockets for storing all your basic necessities for your little one including an insulated pocket for keeping a bottle cool.
White Elm Tote/Diaper bag

While it doesn't offer as many pockets as some of the others, this White Elm tote bag is spacious. It has pockets on the inside to help organize out your diapers or wipes, but it doesn't have any bottle pockets.
MB Krauss designer diaper bag

MB Krauss makes a diaper bag that is on this list of most stylish diaper bags and backpacks. This diaper bag is just gorgeous!
It has one insulated bottle holder in the inside of the bag as well as 12 different pockets for organization and storage. It has stroller straps to easily attach to the stroller, but I really never used stroller straps when I carried my diaper bag around.
At first glance, it looks like a cute weekend bag and not anything like what you would expect a diaper bag to look like. Not only that, it also comes with a changing pad.
Stylish Diaper Backpacks
Itzy Ritzy Diaper Backpack

They really thought of everything when they created this diaper backpack. Not only does it have 17 pockets, 2 of them are insulated for bottles.
I mean, how cool is that?!
It has plenty of storage and also comes with a changing pad. While this diaper bag has all the bells and whistles, it is also quite stylish so it has a place on this list of most stylish diaper bags and backpacks.
Halova diaper backpack

Ok, first of all...how cute is this diaper bag/backpack?! You can certainly see why it makes it to the list of most stylish diaper bags and backpacks, but is also quite functional too!
The front pockets holding the bottles (as seen in the picture above) are insulated so they can keep things cold! Also, it has a zipper on the bag to access the bottom portion of the diaper backpack so that you don't have to dig all the way down to the bottom of your bag to find something in particular.
It doesn't have a stroller strap, but in all honesty, I never used the stroller strap on my diaper bag as I felt it was more secure when I knew I was holding it.
Hafmall diaper backpack

This cute pink and navy blue diaper backpack has 13 pockets so you can organize all your baby essentials into this bag and easily access them. Not only that, in the back there is a zipper so you can access the bottom part of this backpack with ease instead of digging all the way to the bottom of a traditional bag.
It definitely has it's place here on the most stylish diaper bags and backpacks for both it's cute design as well as it's great functionality.
Bag nation diaper backpack

Bag Nation believes in their diaper backpack so much, they offer a lifetime warranty!
You really can't beat that because things inevitably happen, but how great would it be to have a lifetime warranty and get the backpack replaced if you have problems? (I am a huge fan of anything that has a lifetime warranty!)
If that doesn't sell you right there, it also has 14 different pockets for storage and organization of all the things you pack for your baby. Like all these other stylish diaper bags and backpacks, it also comes with a changing pad.
Parker Baby Diaper Backpack

This fun diaper backpack from Parker Baby is another excellent choice. It has tons of pockets!
On the sides are insulated zippered pockets to keep bottles cold.
Everything about this diaper backpack was thought out even to it's neutral colors so your husband can wear this and not feel like it's a purse.
Now, it is up to you to pick your favorite so you can get yours packed and ready for your little baby. Picking might just be the hardest part because there are so many stylish diaper bags and backpacks to choose from.
Which one is your favorite? Leave a comment below!