Are you needing some ideas for a jungle themed nursery? Look no further!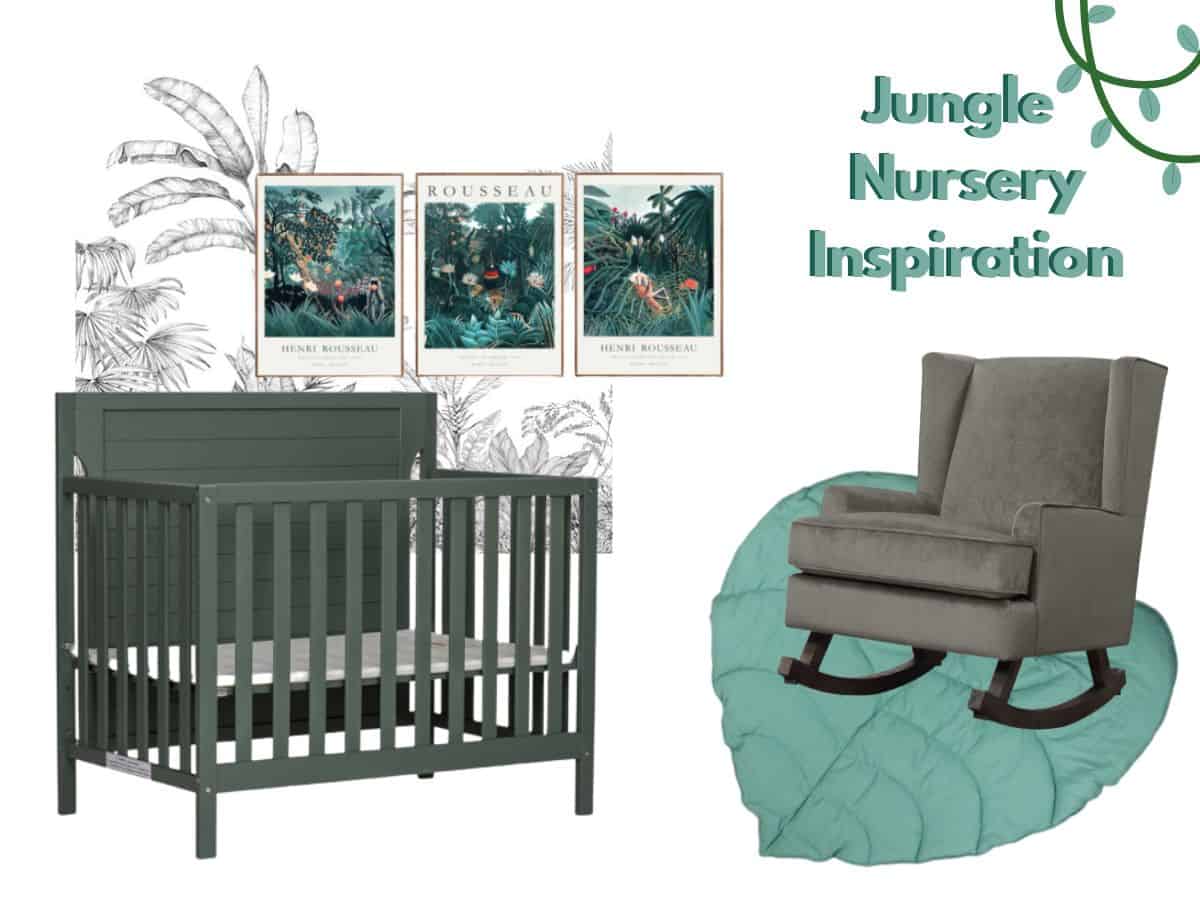 Jump to:
From bold moody colors to neutral rooms with a pop of color, these jungle nursery rooms are so fun!
Tigers in the Jungle theme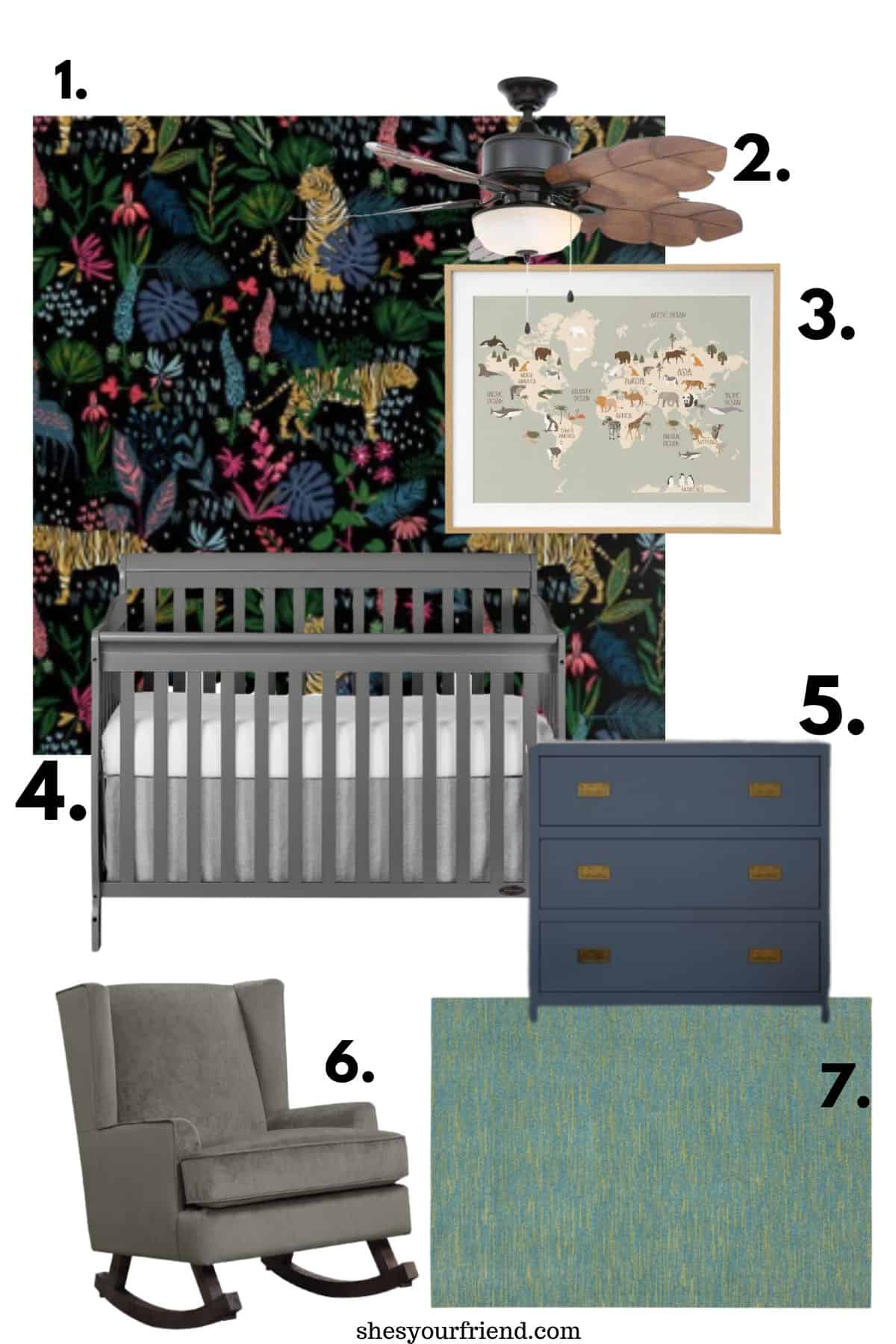 This bold choice of blues and greens with the dark jungle wallpaper adds whimsy and charm. This nursery would be fun for a baby boy or girl!
Rainforest Jungle theme nursery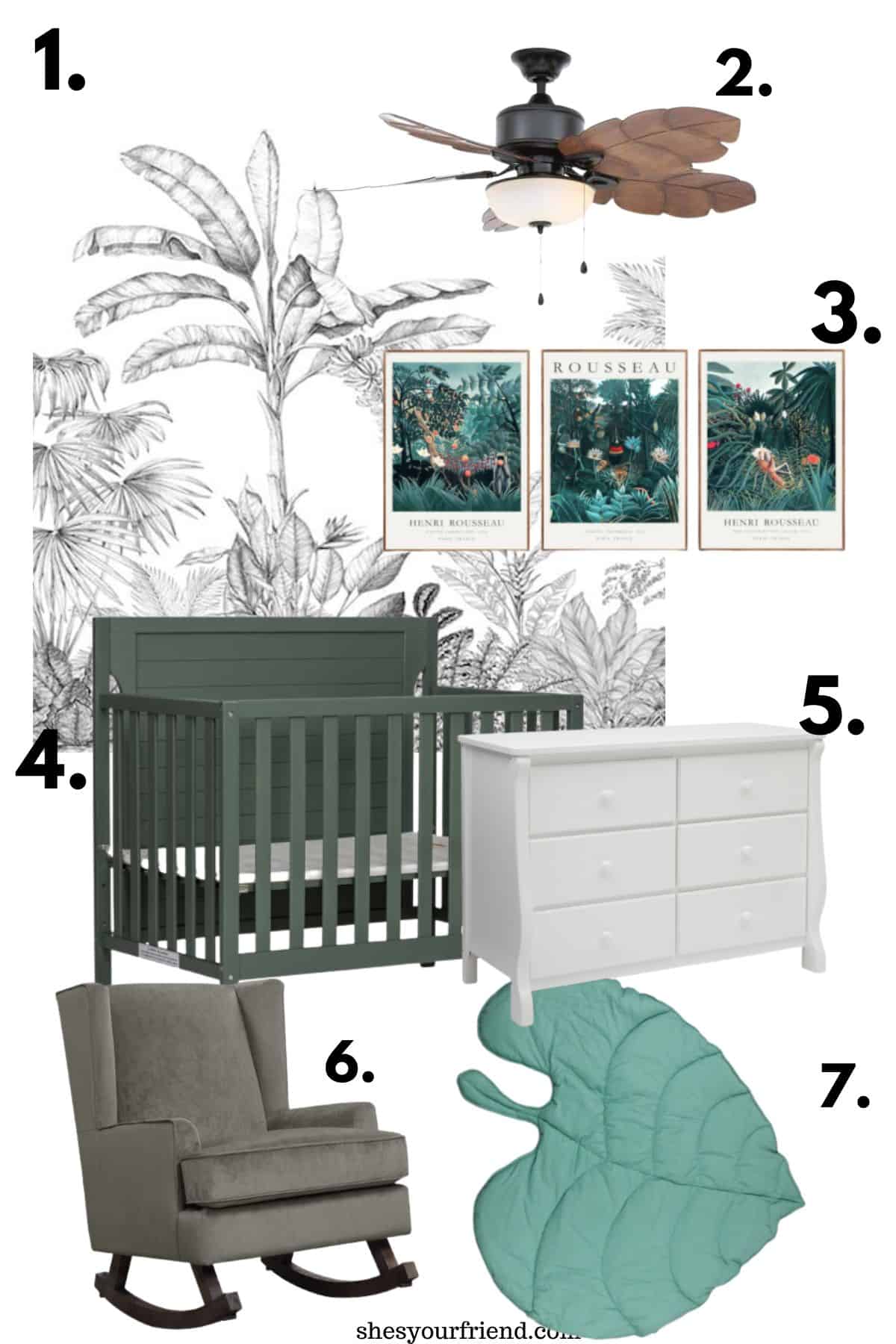 This nursery theme offers a pop of color among the neutral jungle wallpaper. Using blues, greens, teals, and other neutral elements this room is full of flare!
1.Jungle Panoramic Wallpaper (from Epapierpeint Design on Etsy)
2.palm cove 52 inch ceiling fan light (from Home Depot)
3.Botanical Tropical set of 3 Poster prints (from Art Territory Store on Etsy)
4.Dream On Me Bellport 4 in 1 Convertible crib olive green
5.Delta 6 drawer dresser white
6.Picket House Furnishings Lily Upholstered Glider
7.Windfall maple leaf shaped nursery rug
Jungle Themed Nursery items
1. Tropical Dark Jungle Wallpaper
xwallcolors
This dark and moody jungle would be an incredible print for an accent wall of a nursery.
2. Animal World Map Print
Piccalilli Prints
This fun print shows the location of various animals around the world, including those tigers that are in the tropical jungle wallpaper.
3. Woven Rope Basket
OrganiHaus
This beautiful rope basket would be great for a laundry basket or even toy storage.
4. Jungle panoramic wallpaper
Epapierpeint Design
The neutral wallpaper shows a panoramic view of the jungle in black and white. It adds drama to any room!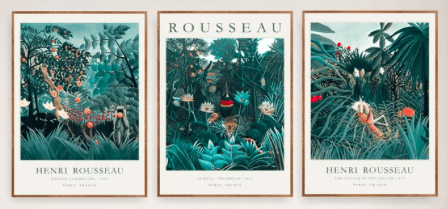 5. Botanical Tropical Set of 3 Poster Prints
Art Territory Store
These poster prints showcase a vivid tropical jungle by Henri Rousseau. Perfect to add a pop of color to your jungle nursery.
6. Leaf shaped nursery rug
First Landings
This whimsical leaf shaped rug looks like it came right out of the jungle.
Nursery FAQ
Should a nursery have a theme?
While they don't have to, it's a lot more fun to have a theme for your baby nursery. Some ideas include a jungle theme, Disney theme, space theme, and princess theme.
How do I choose a theme for my baby nursery?
You can choose a favorite color, animal, or book to use as a theme. Or even a location like a jungle or safari.
More baby nursery themes: