This year's trends are all about farmhouse decor. With Christmas just around the corner, we decided to find some affordable decor ideas.
After all, you shouldn't have to break the bank to decorate your home.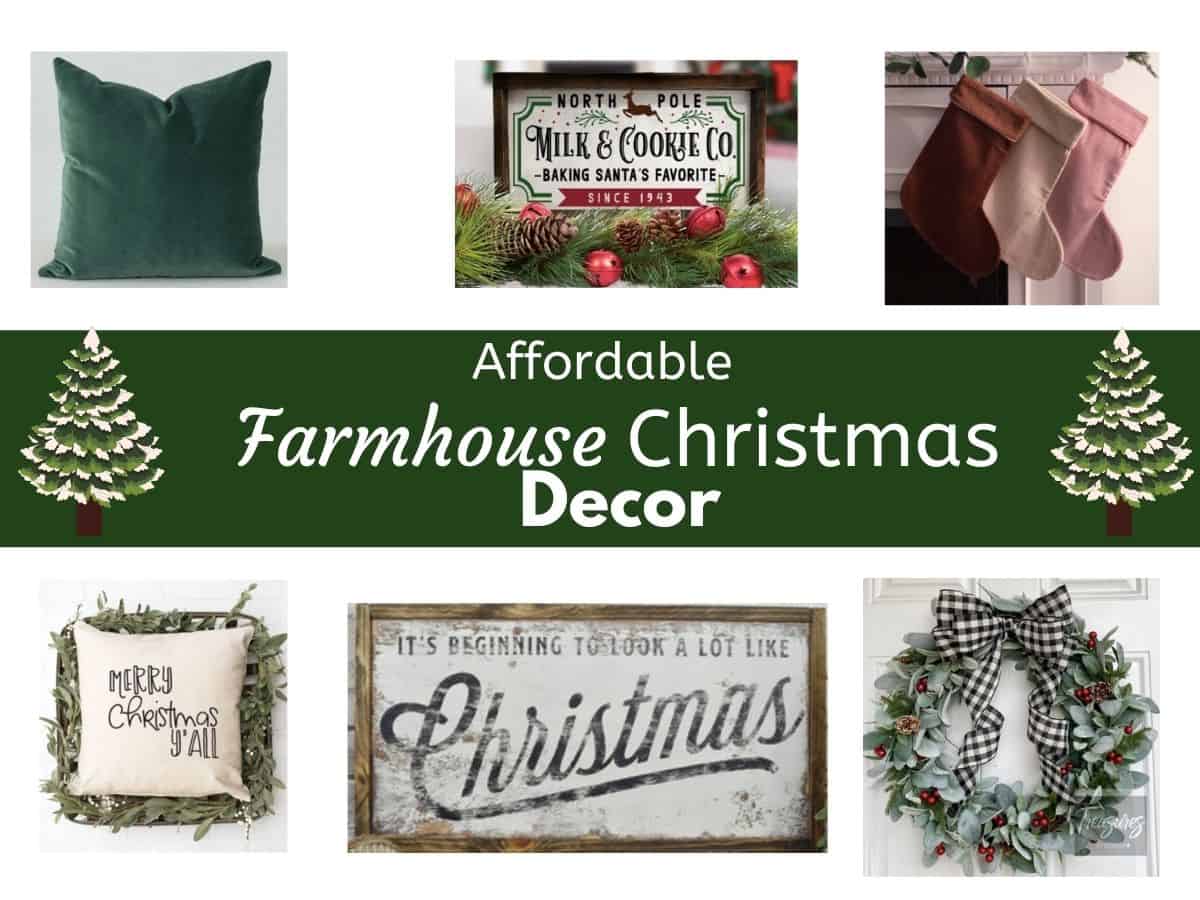 For those of you interested in the farmhouse trend, but don't know a lot about it, the brief rundown is that it mixes vintage and rustic elements.
Jump to:
The colors most associated with this look are white, greens, grays, and other pale colors.
Farmhouse Style Wreaths
Magnolia leaves are really making a wave this year for Christmas. Although the usual greenery wreathes are adorned with cypress or pine, this magnolia leaf wreath is outshining them all.
Of course this cedar pre-lit wreath still has that farmhouse charm but looks a little more festive with the lights already pre-strung in it.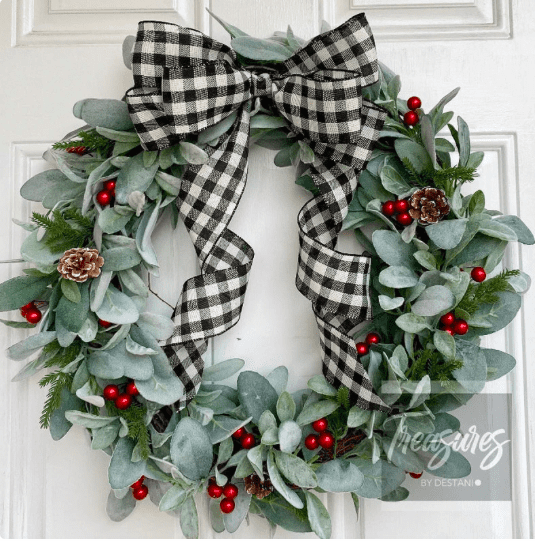 Another farmhouse wreath option is this artificial lamb's ear plant wreath with berries. It gives you a look similar to the magnolia leaf wreath, but this has more muted colors.
Farmhouse Style Christmas Center Pieces

This snow capped Christmas tree centerpiece would make a wonderful addition to your wonderful dining table. What's great about this centerpiece is that it could easily be used after Christmas during winter time.
Even if you didn't want it on your table, this would make an excellent addition to your mantle.
This is another beautiful centerpiece and candler holder in one. The little pops of red berries make this stand out, and the elegant candle holder is just a showstopper.
Farmhouse Style Christmas Signs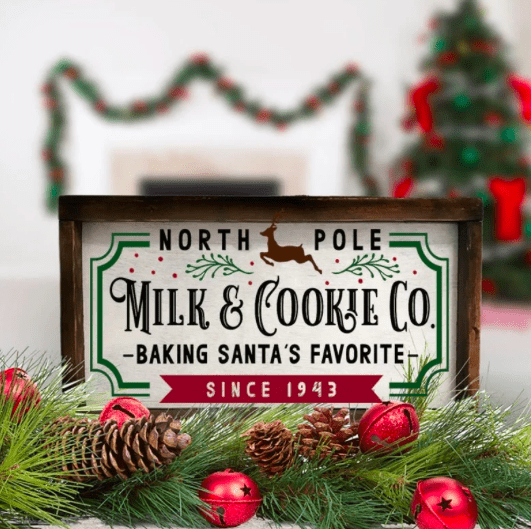 So, I do a lot of baking cookies so this North Pole cookies sign would be perfect in my home. Any other bakers out there?
This vintage inspired hot cocoa sign perfect to complete your farmhouse design this year. It's also one you could easily keep up during the winter months not just during Christmas.
If however you were looking for a more Christmas-centered sign, this galvanized Christmas truck art would do the trick. The bright red candy cane factory sign would add a great accent to your home decor.
This distressed Christmas sign from Etsy is another great piece to add to your home. It would add so much charm to your mantle.
Farmhouse Style Christmas Throw Pillows and Pillow Covers
One affordable way to change out your throw pillows for different seasons is by using throw pillow inserts and just buying covers. Then, can change them out as the season fits. 🙂
Here are some farmhouse pillow covers for Christmas:
This emerald velvet throw pillow cover is beautiful and functional beyond Christmas time. It also goes great with a lot of other throw pillows to add that extra texture.
This pack of four pillow covers are perfect for the farmhouse look, especially with buffalo plaid being THE pattern.
They have a mix of different colors, and images on each pillow so you get a variety.
This is another great throw pillow for your farmhouse. The fun fonts on this throw pillow cover is whimsical and will definitely put a smile on your face.
Farmhouse Style Christmas Trees
Like the snow-capped centerpiece, this snow-capped artificial tree is stunning. It would make the perfect focal point to your living room, adorned in your favorite Christmas ornaments.
Or if you are looking for that classic green tree, than this 7.5 foot tall tree is perfect for your home. With the right ribbon, and some picks, you could have this screaming farmhouse in no time!
Farmhouse Christmas Stockings
Stockings are easily overlooked, but are still a great way to get that farmhouse feel to your home. The great thing about the farmhouse trend is that you can mix and match different patterns, and textures.
These ivory knit stockings are simple and elegant, but you could also pair them with a hunter green stocking or a buffalo plaid stocking if that's the theme you are going with this year.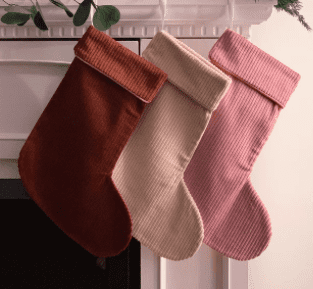 These corduroy stockings are another great option to add some color to your Christmas decor.
What's your go-to decor for Christmas? Leave me a comment below!
Farmhouse Christmas FAQ
What is a farmhouse style Christmas?
Think Chip and Joanna Gaines with their rustic style, pale colors, burlap, and buffalo check print.
What colors are farmhouse Christmas?
With a farmhouse style Christmas, think blacks, whites, pale greens, and red to mix with rustic wood.
How do I make my house cozy for Christmas?
Mix and match with lots of different textures like magnolia leaves and lambs ear plants instead of your traditional greenery for a cozy farmhouse feel.

Another idea is to have a warm faux fur or thick crochet throw blanket in your house to give it a warm and cozy vibe.