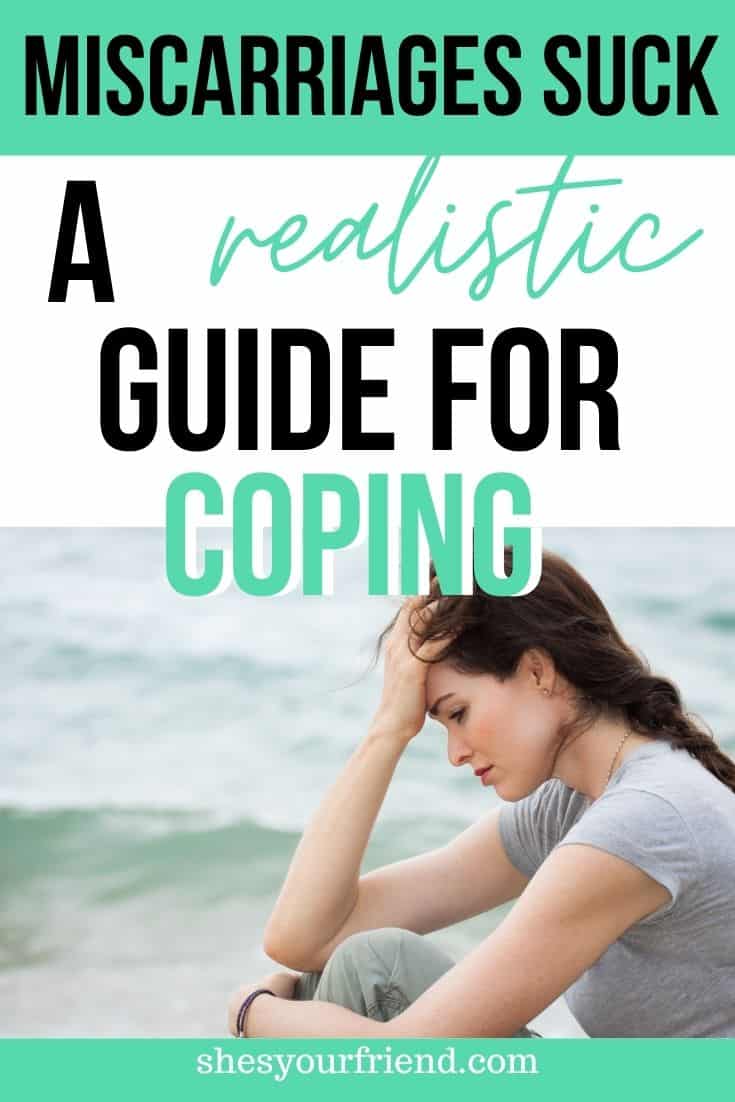 For all the mama's who never got to meet their babies.
This isn't meant to be a crutch. It's also not meant to replace what you have lost. It's simply a guide to helping you cope through this heart-breaking time.
You might hear the phrase "I've been there, or you are not alone" thrown at you a dozen times, but not here. Here I share the realistic way to cope with your loss.
No false sentiments, or awkward replies. Just realness in a time where you feel completely crushed.
You have to keep going, even if you don't feel like it right now.
Now, I know what you might think. Why should you listen to me?
Well, as a mom who has had 4 miscarriages, I know a thing or two about coping. And no, it doesn't get easier the more miscarriages you have.
Another question you might have is why write this?
Unfortunately, there is a stigma when it comes to talking about miscarriages, which is sad because 1 in 4 pregnancies ends in a miscarriage.
I wrote this to help other women who are going through this tough time and need some help coping.
I wrote it for the moms who are tired of hearing the same old sentiments after a miscarriage, because while they mean well, they just aren't helpful.
This guide is raw and emotional to help you find yourself again after your loss.
It has my own personal stories and experiences mixed in throughout to help show you examples of what helped me through some of the hardest times of my life.
My hope is that after you read this, it will help give you a better action plan for coping, but you better grab some kleenex because this book will also make you cry.
Broken Heart
You can never be prepared to hear those little words, "your baby doesn't have a heartbeat anymore" or "I'm sorry, but you had a miscarriage". Your world comes crashing down.
Those baby books don't prepare you for that. Nothing does.
It doesn't matter how far along you are, it hurts just as bad.
I remember someone telling me "well, at least you weren't that far along" with one of my miscarriages. I was livid, who the hell says that so someone who is grieving?!
From the moment you know there is life inside of you, almost instantly something changes. Like your body just knows you are now a mom.
You begin to think of the future. Picture what your baby will be like, and if you will have a boy or a girl.
Miscarriages rob you of those moments. It robs you of your baby. It robs you of the happiness that was growing bigger and bigger everyday.
It also robs your sense of self. One moment you were an expecting mom, now you are just a woman who had a miscarriage.
To say your are heart broken is putting it lightly. It's really like a piece of your heart broke away, never to be seen again.
I remember that heartache all too well. That feeling of heaviness inside your stomach anytime you think about it.
Roller Coaster
From picking names and imagining what your little baby will be like to emptiness, that is the worst rollercoaster of emotions.
I still remember the first time it happened. It was right after Christmas, and we had already announced to our families we were pregnant. My husband and I were excited and beaming at the thought of a little one.
Then, I went to my appointment and was excited to see another scan of the little baby inside me. I had gone alone this time, because my husband had gone with me to the first one.
As my doctor went to do the scan, she looked at me with sadness in her eyes.
I felt a lump in my throat. What? What is it?
She swallowed slowly, and then softly told me, "I'm sorry…". At that moment I started to cry. Being alone and finishing up the appointment was the most awkward feeling.
I told myself to be brave, and wait until I got home.
Telling my husband was the second hardest part. Seeing the heartbreak on his face was like reliving what I had been told in the doctor's office. At that point, the tears started falling. This time a lot more, because I was at home. I wasn't trying to be brave around my OBGYN.
All I wanted to do was disappear and not be seen again.
The rollercoaster wasn't over yet. We had a family get-together coming up and of course everyone asked about us and our little baby-to-be. Then, I had to awkwardly say I had had a miscarriage. I felt worthless, disgusting, and wished I had just stayed at home.
Those first couple of months after my miscarriage, I avoided being around any family members. I didn't want their looks of pity, or sadness. It was easier being alone.
After those couple of months of pure sadness, I just wanted to forget it happened. That was easier said than done.
Going back to work, and being around friends and family members, I would have a few people come up to me and tell me how they had had a miscarriage too.
While I knew they meant well, it was like throwing salt on a wound that had not yet healed up. The pit in my stomach returned and all I wanted to do was run away and cry.
What I wished they would have done, was to just make light conversation and not bring up my miscarriage.
Seeing random pregnant strangers at the store or little babies with their moms brought back that pit in my stomach. It burned, and burned.
After a while, it stopped hurting as much as it had.
The pain was replaced with hope.
Those stories of others who had had miscarriages weren't salt in the wound. They were now my reason to have hope.
Ugly Crying
Coping with a loss requires going through a cycle of emotions. The first one is sadness.
I am now giving you permission to ugly cry. You know the kind, where mascara is running down your face and your eyes turn a light shade of red.
I always think of it like the scene from Legally Blonde in the beginning when she is crying at home after her breakup.
Cry because it hurts. Cry because of what you missed out on. Cry for what could have been. Cry and cry until your eyes are dry and it feels like you can't cry anymore.
The sadness will eventually pass, but it will take time.
The more you face this first emotion, the quicker it will be to help you move on.
You might get unexpected reminders of the pain, so cry when you need to. It helps to release your emotions rather than to bottle them up.
If you are the type of person who hates crying around other people, like me, then find time to be alone and cry.
I know I cried a lot with my husband, but there were a lot more times that I cried by myself.
Every time I felt that lump in my throat, crying seemed to help relieve the pressure. It honestly felt good to cry.
When those small reminders creep into your life, excuse yourself to go outside or leave the room and have a little cry.
It's so much better than choking back the tears and pain because you don't like being seen crying.
Permission to break something
Anger is a part of grief, and you are grieving mama.
Be angry, damnit! You have every right to be angry. Angry at life, angry at how unfair things are, or maybe just angry at nothing.
Yell or scream. Let it out. Punch your pillow or break a plate. Seriously, this helps you get through this phase a lot faster.
Again, resist the temptation to just avoid this emotion. Anger can be helpful in it's own way.
With my miscarriages, I was angry at a lot of things. I was angry that God could give babies to bad people, but I had to have a miscarriage.
I was angry at myself, over-analyzing everything I must have done wrong.
I was also angry at how unfair this was.
Lingering on my anger wasn't really helping, so I found an outlet to release that anger.
Screaming into a pillow seemed to help, but what really worked wonders was to break something. I don't know why, but it was like this taboo way to unapologetically get my anger out.
Now, don't go throwing away any heirlooms, but find something that you can break. Like a cheap dollar store plate.
What you don't want to do is take your anger out on others.
I remember getting angry at my husband because he didn't seem to be affected by my miscarriages like I was. The reality though was that he handled his grief differently, more silently.
Later on, I regretted acting the way I did, because he didn't deserve that.
Find your happy again
You might alternate between the first and second step for a while. What can help, is to find your happiness again.
Make time for a hobby that you have always enjoyed.
Or watch a comedy. Whatever it takes to get yourself smiling again.
The more you start to find happiness, it then starts to replace those feelings of sadness and anger.
For me, it was small things like running and photography. I also binge-watched many romantic comedies because why not?!
Getting my mind on something else was essential for not dwelling in the past.
Slowly my smile returned and I felt a little more like I used to before it all happened.
If you are like me, you might feel guilty for wanting to be happy. Like you are forgetting about the baby you lost.
In the beginning, that's how it's going to feel. Keep making an effort to do the things that make you happy.
If it's easier, do something to honor the baby you lost. For me it was writing this book!
Reliving those times in my life to write this guide was hard, but if something good can come out of my heartache, then it will have been worth it.
Living your life with a piece missing
As you move on with your life, you will feel like yourself again, but also different. It will feel like there is a small piece of you missing.
At least for me, this feeling never went away. I just got used to it.
I thought after I had my kids, it would go away... but it didn't.
I think this is because a miscarriage changes you. You look at life differently. You also learn to cherish things more, and be more grateful.
From time to time, you might find yourself thinking about the baby that you lost.
You might feel sad, but the pain that was once there isn't so noticeable.
My letter to you
Every mama will cope differently. With my first miscarriage, I was sad and depressed for a long time. With my second miscarriage, I was just angry more than anything. By the third and then fourth miscarriage, I had found a way to cope a lot faster.
Dear mama,
Life seems tough right now. You are struggling with every emotion and all you want to do is go back to life before this ever happened.
Please give yourself grace. Grace to feel sad and mad.
Grace to scream and want to break things.
Grace to be alone.
Grace to cry until there isn't a teardrop left.
Give yourself grace, but also let yourself heal.
Life will be different, but you will find a new way to go on.
With Love,
Joanna Stephens