Teaching your kids about chores is not only a great way for them to have some responsibility, but it also helps teach them independence.
Another great perk is that it ends the, "mom, will you do this".
Jump to:
As your children become more independent, things will run a lot smoother, and parents won't have the burden of doing it all.
With that being said, kids can only do so much. There are age-appropriate chores for kids of all ages, so there really isn't a reason not to start!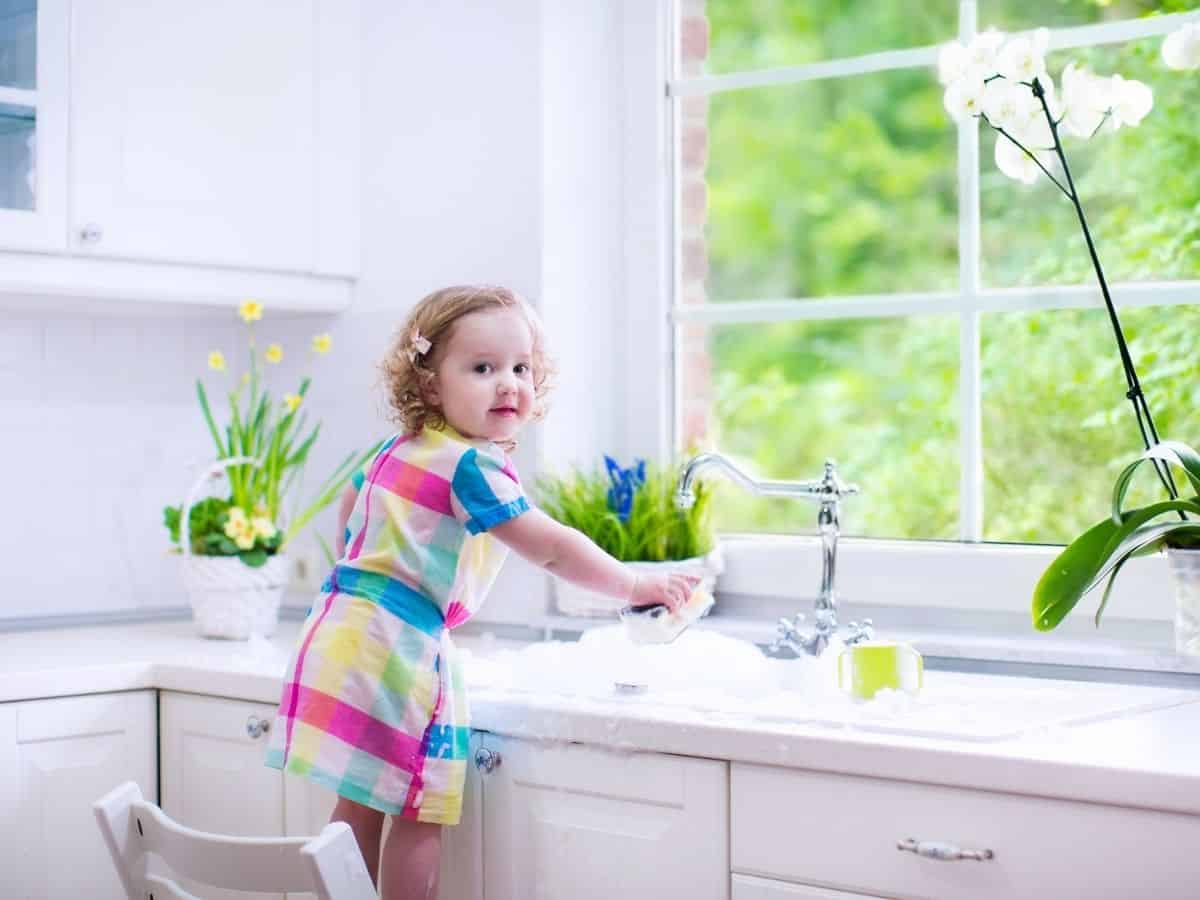 Why do kids need to help with chores?
They get to help contribute to the family.
They learn responsibility.
It helps your child not feel entitled to everything.
It keeps them from becoming spoiled.
They are strengthening their work ethic.
It makes kids feel needed, because what they do matters!
Teach your kids how to do chores
The best way to get your kids helping with chores, is to teach them! It's hard to expect something from someone when they were never taught.
This will require a little patience on your part, but in the end you will be happy you did.
Go through step by step how to do the chore, and don't leave out even the simplest detail. After all, this is new to them!
Do I need a chore chart?
Another great thing for organizing chores is using a chore chart.
These are great for younger kids (especially toddlers) because it shows them what they have accomplished, and what still needs to be done.
When your kids get older, chore charts might not be as effective.
How often should kids do chores?
This will really depend on each family, but you can have daily and/or weekly chores that you set for your child. If your kids have a hectic weekly schedule during school time, set some weekend chores.
Daily responsibilities vs Chores
Are daily responsibilities the same as chores? Some might answer yes, and others might answer no.
For me, I think it depends on the age of your kids.
Daily responsibilities include things that need to be done on a daily basis, like making beds or picking up your room.
For younger kids these would be a good starting point for chores until it becomes habit. As your kids get older, ideally they should be doing other chores besides these daily habits.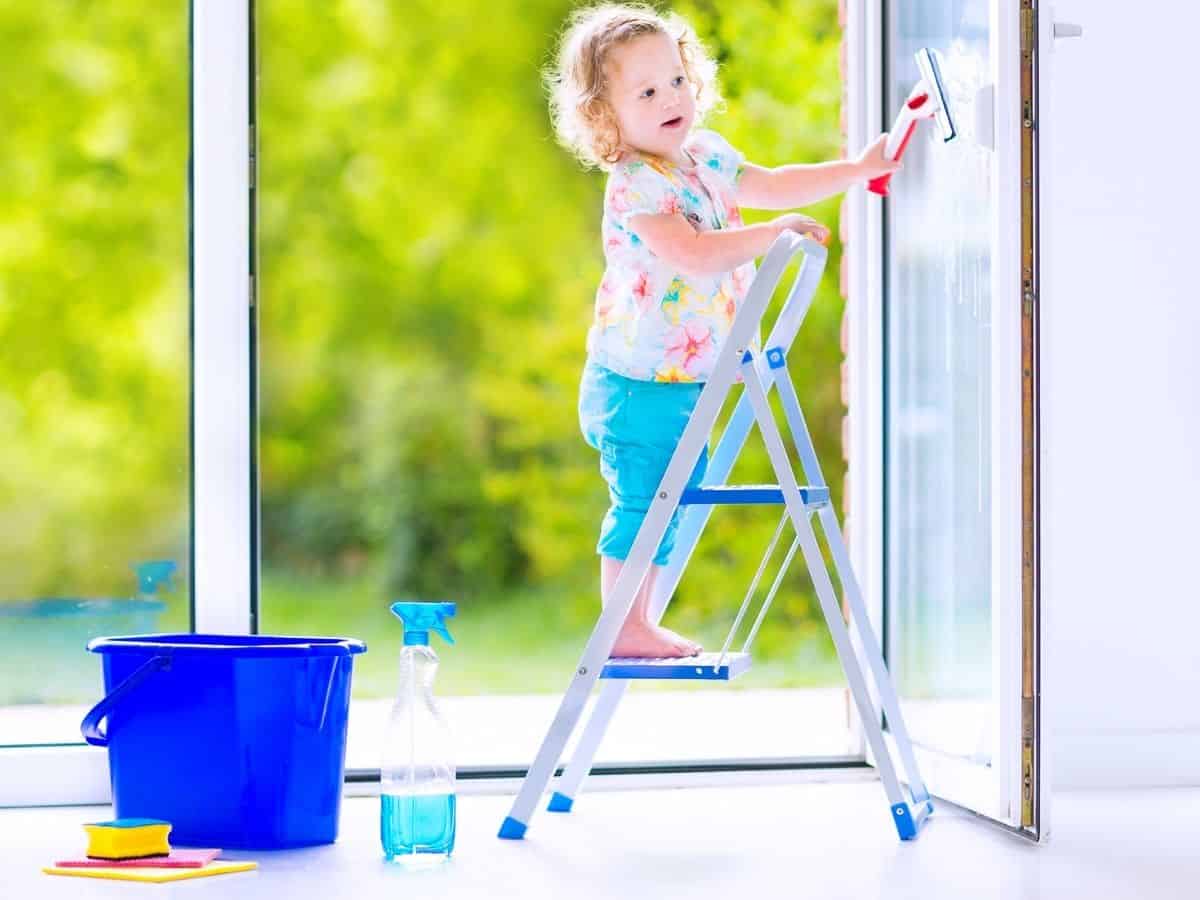 Examples of age-appropriate chores for kids
Here are some examples of ideas for kid-friendly chores. For your convenience, I have separated them into age groups.
AGES 2-3 (CHORES FOR TODDLERS)
When your kids are this young, there is only so much they can do. With that being said, they are still quite capable of helping out!
Wipe the table down (after crafts or eating)
Put dirty clothes in laundry basket or hamper
Help set the table
Put toys away
Help make their bed
Help unload the dishwasher (my toddlers were always eager to help me. They will usually grab a plate and hand it to me, which gives them a sense of accomplishment and pride!)
AGES 4-5
Make their bed
Pick up toys and books
Water plants
Sweep the kitchen floors
Put dirty clothes in laundry basket or hamper
feed the pets
AGES 6-7
Empty the dishwasher
Vacuum their room
Fold Clothes and match sock pairs together
Peel Potatoes
get the mail from the mailbox
AGES 8-9
Do your own laundry
Put Groceries Away
Vacuum the living room
​help pull weeds out of the garden
​doing dishes or loading the dishwasher
cleaning the bathroom sinks and countertops
sweep the front/back porch
take the trash out
AGES 10-11
clean the kitchen
​clean their bathrooms (toilets and all)
clean windows
mop floors
water the garden
AGES 12+
wash the car
mow the yard
help with grocery shopping
watch younger siblings
change light bulbs
clean the refrigerator
dust furniture
Should cooking or making their own meal be a chore?
This will all depend on each parent, but my philosophy is that teaching your child how to cook or make a meal is a life skill...not a chore.
With that being said, you might set goals for your child to be able to make a sandwich by a certain age, or boil noodles by a certain age.
Printable template of chores for kids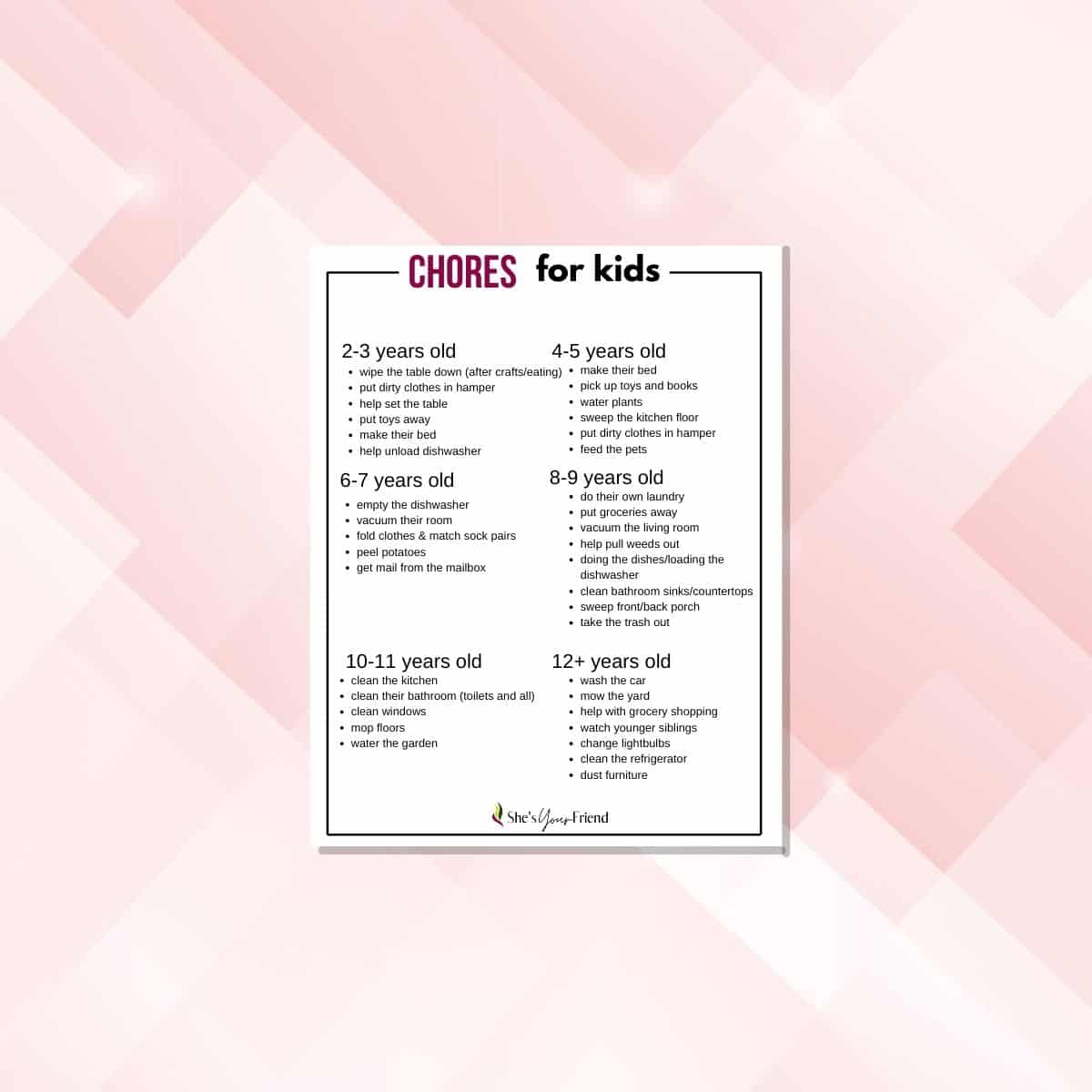 Download your copy of Chores for Kids
Remembering the different types of chores for each age group can be a lot to memorize. That's why I created this printable with a template of the chores for each age.
This template is best used as a guide. Some parents offer rewards for accomplishing tasks, like extra screen time or an allowance.
Most importantly, remember to help teach your child about how to do the chore. This way they know what to expect and you can feel more confident that they are doing it the RIGHT way.