Have you decided on the color yellow for your baby's nursery theme? If so, these ideas will give you lots of inspiration.
Jump to:
Yellow & Gray Nursery Inspiration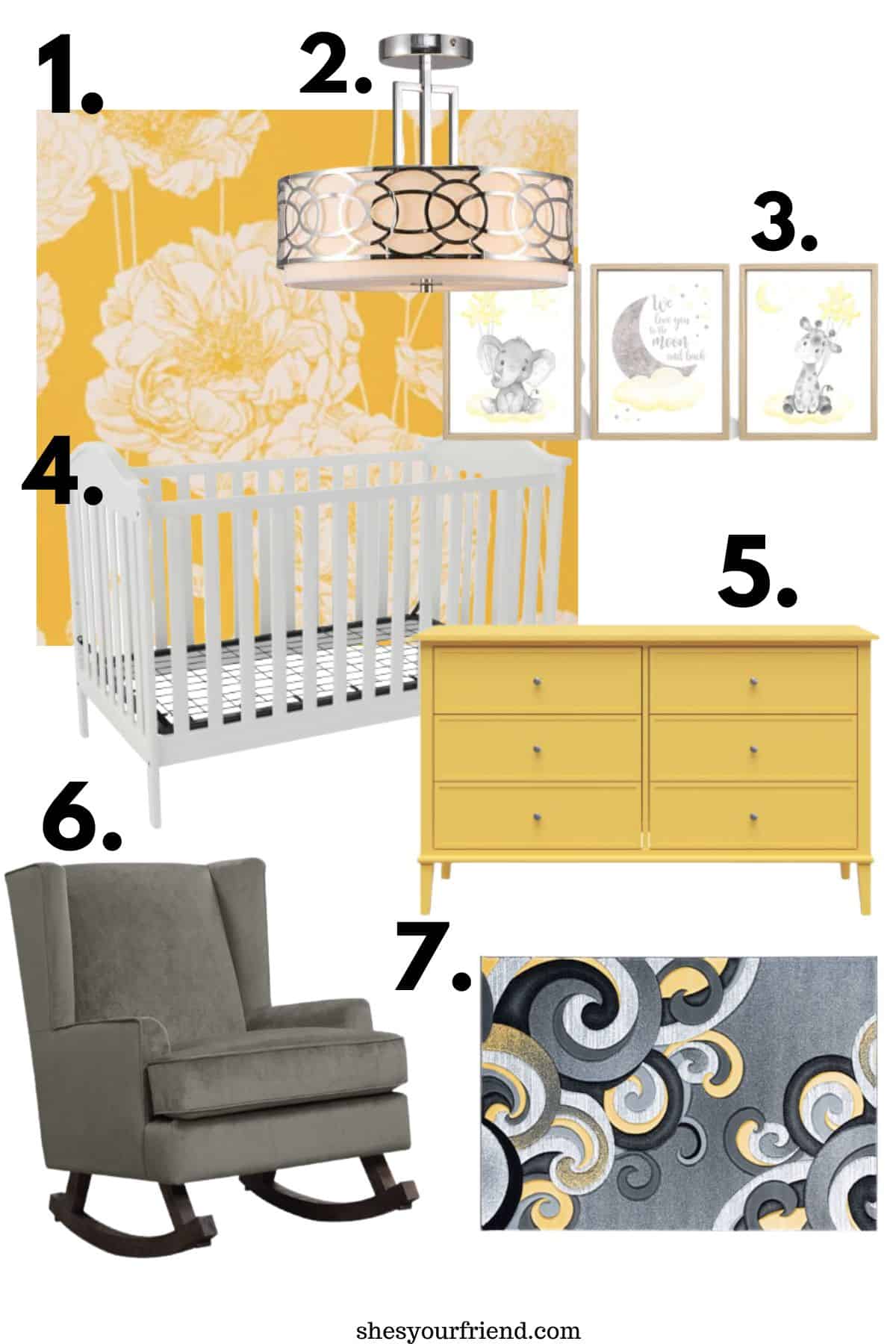 This bright yellow wallpaper would be perfect for an accent wall in your baby's nursery! Pair it with neutral tones of white and grey for a contemporary feel.
1.Yellow Peony Peel & Stick Wallpaper (from AccentuWall on Etsy)
2.Cedar Hill 14.5 inch silver drum semi-flush light (from Home Depot)
3.Elephant Giraffe Nursery Wall Art Prints (from LavenderLanePaperie on Etsy)
4.Baby Relax Adele 3 in 1 Convertible crib
5.Desert Fields Eclectic Boho 6 Drawer dresser
6. Picket House Furnishings Lily Upholstered Glider
7.United Weavers Drachma Dahlia Area rug
Yellow & Brown Nursery Idea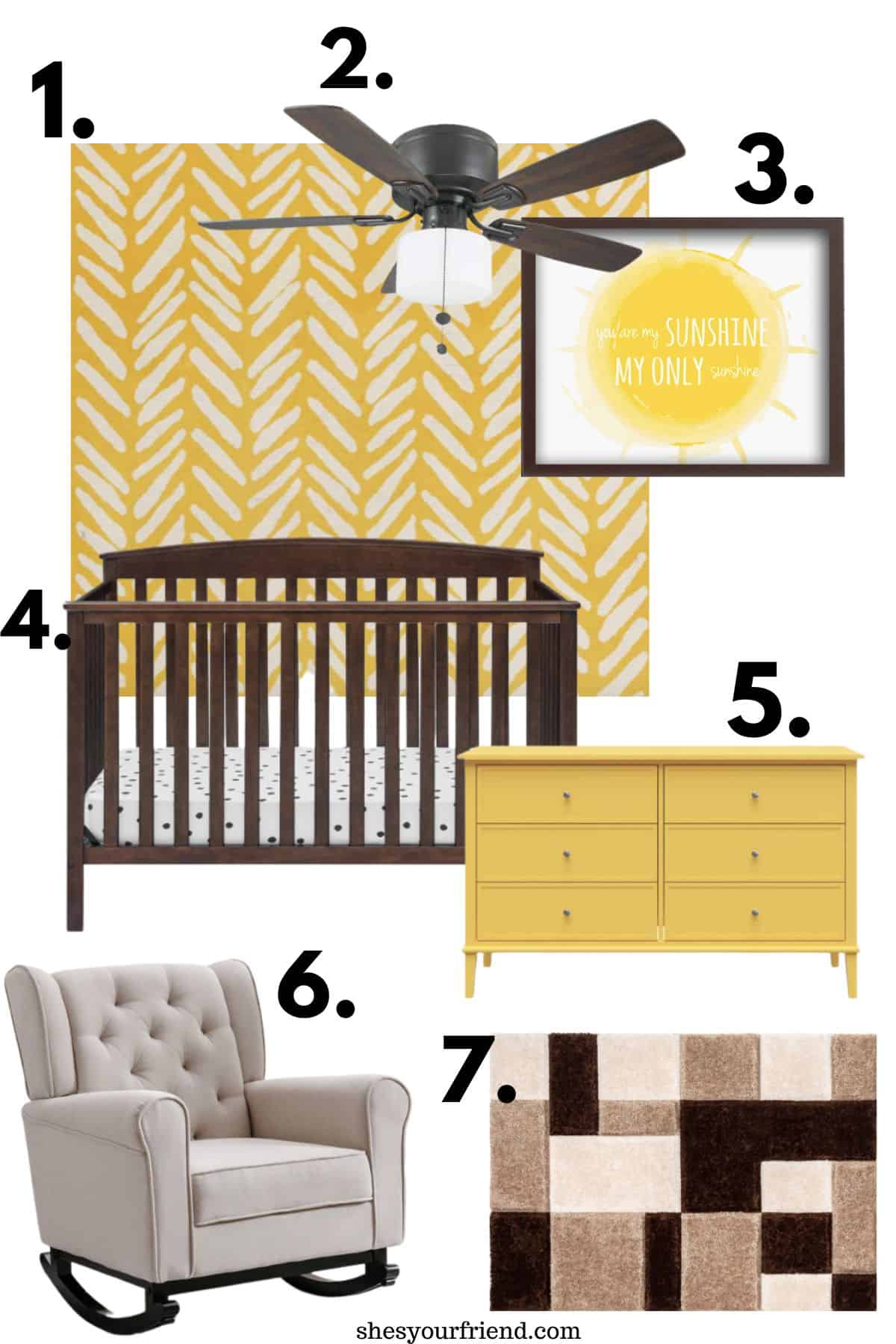 This yellow nursery has touches of brown that complement the brightness of the yellow wallpaper and dresser.
1.Yellow Herringbone Wallpaper (from Wallpapers4beginners on Etsy)
2.Bellina 42 inch ceiling fan light (from Home Depot)
3.You are my sunshine nursery wall print (from Daphne Graphics on Etsy)
5.Desert Fields Eclectic Boho 6 Drawer dresser
6.Erommy Mid Century Rocking Chair
7.Well Woven San Francisco Escondido Brown Area Rug
Light Yellow & Black Nursery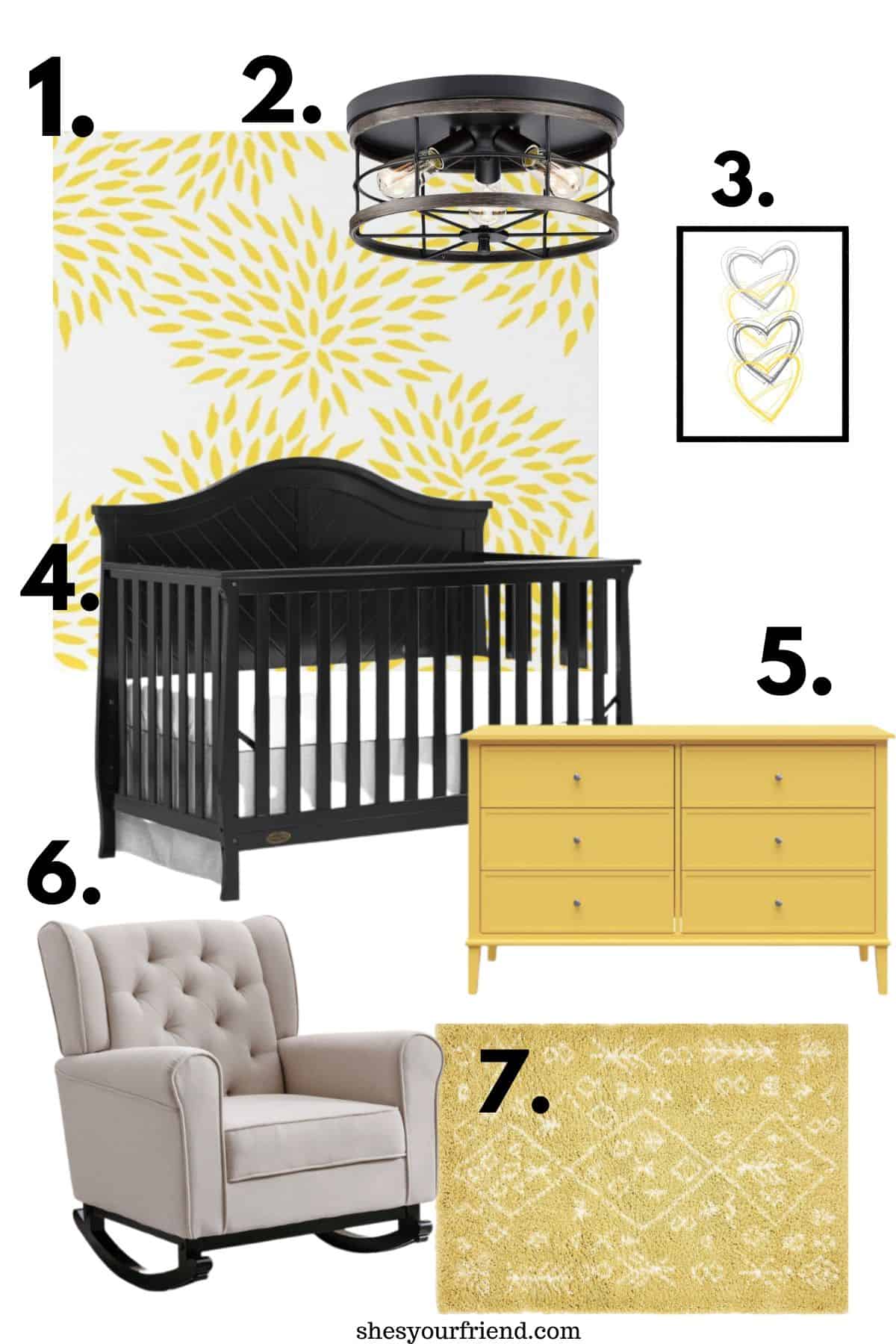 This third room is another fun way to incorporate a moody black with your yellow color scheme.
1.Floral Yellow Wallpaper (from Spoonflower on Etsy)
2.Progress Lighting Fairforest 15.75 inch flush mount light (from Home Depot)
3.Minimalist Yellow and Gray Hearts Wall Art Print (from Primroad Designs on Etsy)
4.Dream on Me Kaylin 5 in 1 Convertible Crib
5.Desert Fields Eclectic Boho 6 Drawer dresser
6.Erommy Mid Century Rocking Chair
7.Unique Loom Yellow and Ivory Scandinavian Area rug
More nursery ideas for baby girl or boy