Having a baby is life-changing! To make the postpartum healing process a little easier, you might want to stock up on a few of these items...or all of them.
Trust me, you will be glad you did!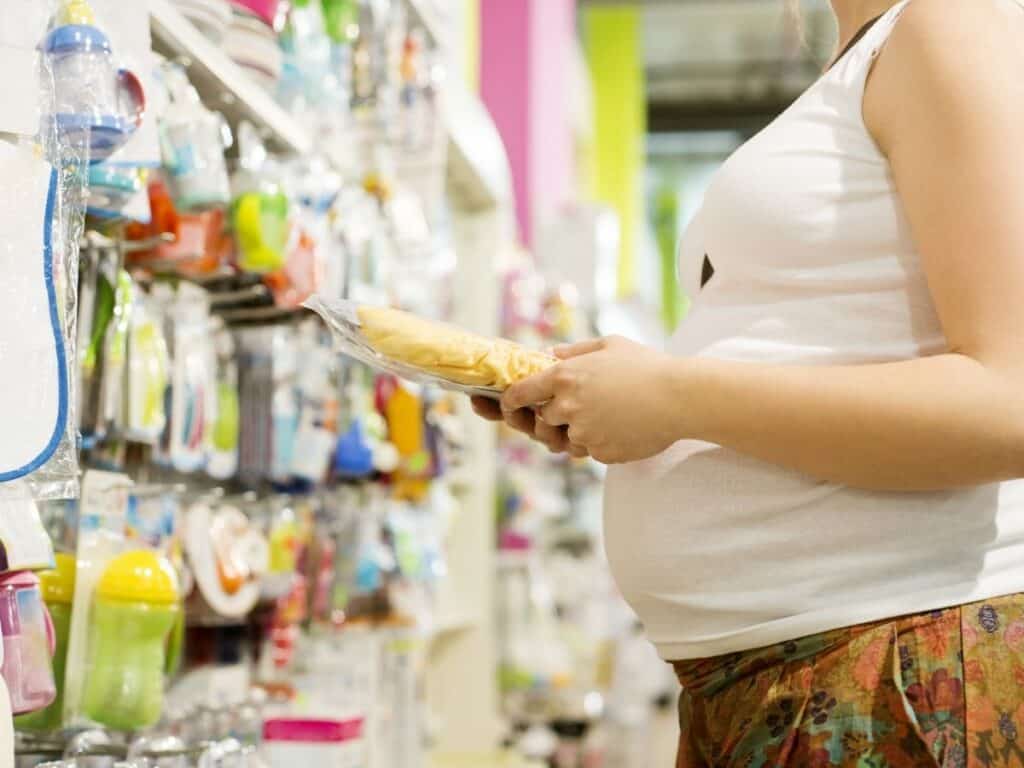 Jump to:
Essentials to Bring Home from the Hospital
After you have your baby, there are a few items you might want to make sure and bring home from the hospital. These are:
mesh underwear
thick pads
belly binder (if you had a c-section)
peri bottle- Ninja Mama makes a really fun pink one that you can purchase here on Amazon!
Each hospital is different, so if you didn't get to keep these items no worries! Amazon has just about everything too ;).
Postpartum Essentials for mom
Here's a look at all the must haves for mom to make her postpartum life a little bit easier. If you can, try to stock up on these before you give birth.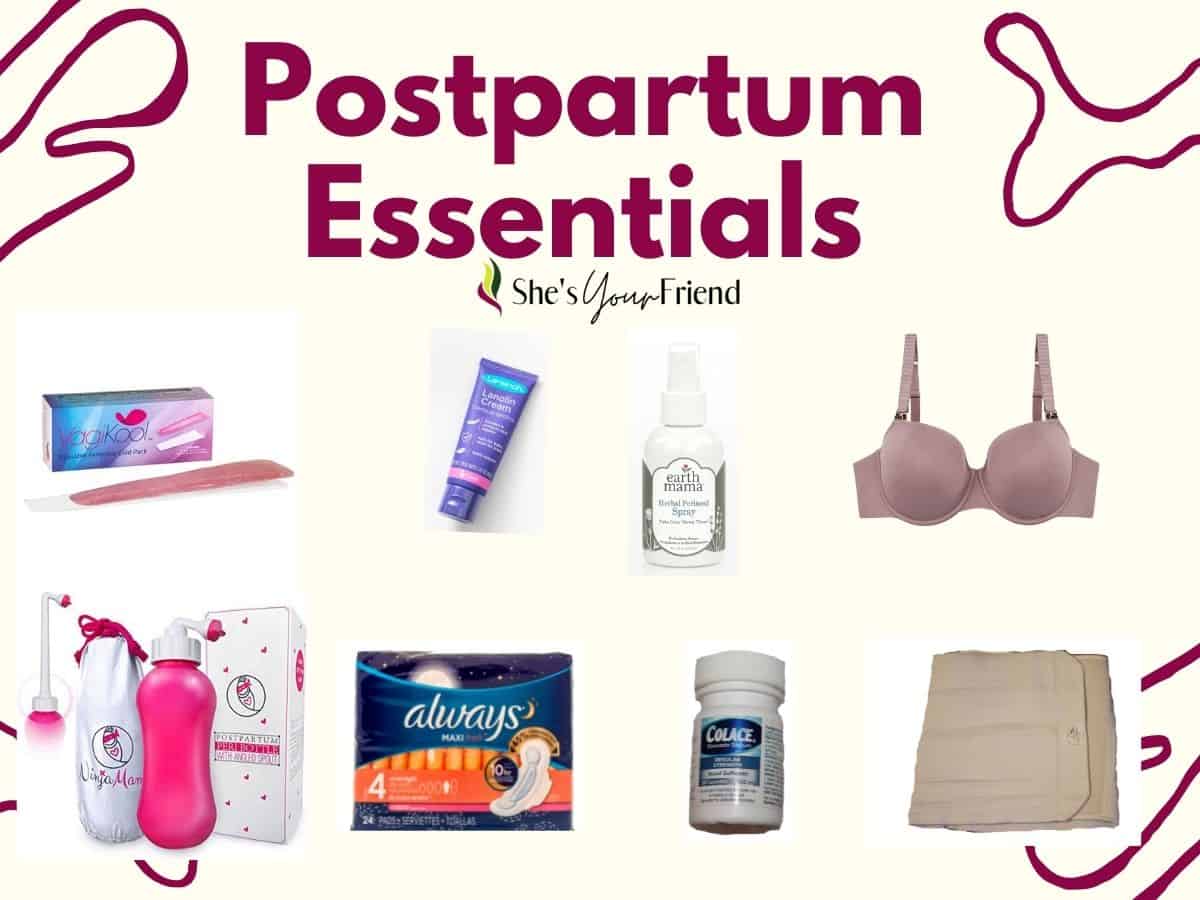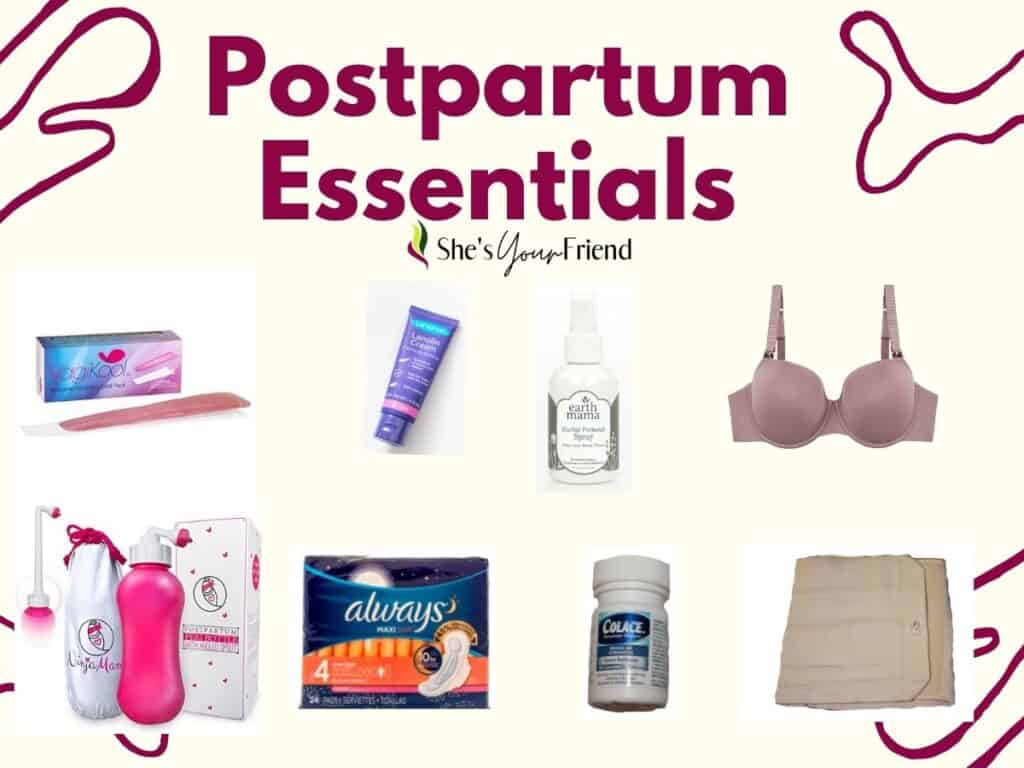 Recovery Essentials
To fully prepare for life with a little baby, having things stocked up in advance can be a sanity-saver! Here are a few things to keep on-hand for postpartum life:
1. Thick Pads with Wings
It doesn't matter if you used to use the thin light pads, after giving birth it's going to be messy. Even if you have a c-section, you are still going to need pads!
I personally liked these pads by Always
for the first couple of weeks, before switching back to my normal thin pads.
Buy these well in advance because if you ask your husband to go to the store for pads with wings...he's gonna look at you like you are crazy! I know from experience, haha.
2. Stool Softener
One bottle should be more than enough, but you really need to make sure you have it! After giving birth or having a c-section, your bowels get really constipated.
While in the hospital, they are most likely giving you stool softener, but you will want to keep taking it for at least a week after you leave the hospital.
I used this stool softener
, because it was gentle yet effective.
Contipation and stitches are no laughing matter!
3. Cheap underwear (big enough to hold thick pads)
This can really be up to you, but if possible purchase some cheap underwear in a size larger than you normally wear.
You want a size larger because you are going to be using some large pads, and this helps make sure it can fit it. Also, if these get ruined, you won't have to sweat it because they weren't your normal everyday pairs.
4. Epsom salt and lavender oil (for a sitz bath)
Sitz baths can be such a relieving way to help after a vaginal delivery. Mixing some epsom salt and lavender oil into your bath water will help reduce the swelling, and make you feel 100 times better!
Or better yet, Amazon has some great lavender infused epsom salt
at a really affordable price.
5. Vagikool Postpartum cold pack
This cold pack
is another great item to have in your postpartum recovery kit, because it can be frozen and worn like a pad to help with immediate pain relief and swelling.
If cold's not what you want, you can also warm it up in warm water and it can soothe your pain away with warmth.
6.Pain relieving spray
Earth Mama Organics makes a pain relieving spray that is all natural and helps provide a cooling relief when the stinging pain of postpartum becomes too much to bear.
7. Breast Pads
Whether you decide to breastfeed or formula feed, you will probably still need breast pads. These help prevent leaks of milk on your bras and other clothes.
They make disposable, and also reusable.
You can read more about breastfeeding vs formula here if you are still unsure which is right for you.
8. Nipple cream
This is one postpartum essential that YOU MUST HAVE if you are going to breastfeed. Your nipples will get sore, cracked and dry out. It hurts!
Nipple cream can offer some relief and help make things not as raw.
9. Nursing bras
This is another esesntial for breastfeeding mamas only, but you are definitely going to want to have nursing bras. They help make breastfeeding simple!
Now, if you are looking for some of the most comfortable nursing bras, you have to check out these nursing bras by Third Love. Hands down, the best!
They offer memory foam cups that will morph to your body, and easily become your favorite bra of all time.
Essentials for baby
Diapers & Wipes
You will want PLENTY of diapers and wipes. Now the size of diapers may vary depending on how big your baby is when he/she is born.
I am a preparer, so I had at least one big box of newborn sizes, one big box of size ones, and one big box of size twos.
Formula
If you are planning to feed your baby with formula, you might also want to have at least one container of formula. I wouldn't stock up too much, because every baby is different and my require a gentle version.
Laundry detergent
We like pods for the convenience, and it just so happens that they make gentle pods for baby clothes too, yay!
Household Essentials to stock up on before having baby
Another great way to help prevent the frustration of running out of household items while you are recovering is to stock up on some household items.
These are non-perishables that can last awhile like toilet paper and paper towel.
Here's what I stocked up on before I gave birth:
Paper plates and plastic spoons/forks
For the days you don't want to wash a bunch of dishes, having some disposable plates and eating utensils will really make your life easier.
Toilet Paper
You DON'T want to run out of this right after having a baby, so use this time to stock up your pantry with plenty!
Dish Soap
Again dish washing pods are LIFE for moms, so I made sure to have plenty of them.
Body Wash
No mom wants to run out of this when they have a lot going on down there...and all around for that matter. Just make sure you have at least an extra bottle.
What about food?
You can also buy groceries in advance, but only if they can last a long time (canned fruits/veggies, peanut butter, jelly, spaghetti sauce, and soup).
Or an even better idea is to start making some freezer meals that can be easily heated up in the oven or crock pot.
Postpartum is a time for bonding with your new baby, and recovering from child birth. That's why it's important to have everything you need before your baby is here! Take care mama!! 🙂